(Updated on August 22, 2022)
When a storm starts rolling in, then hail might be on the horizon. Instead of trying to make room in your garage, or worrying about your insurance policies being up-to-date, investing in one of the best car covers for hail protection makes more sense.
These covers will keep your vehicle safe, even during the most sever weather. So quit stressing about a freak hail storm when you're at work or home and your car or truck is out in the elements.
See Also: How to Store Your Vehicle for the Winter
Top 9 Best Hail Proof Car Covers
Hail might not always damage a vehicle, but anything more substantial than a pea size can create dents. That's why you'll want to consider owning one of these covers today.
Whether you live in Texas, Colorado, Nebraska, or any other state known for its severe hail storms, no other car cover will protect your vehicle better than the patented Hail Protector. No matter if you're dealing with pea-sized or baseball-sized hail, you're protected.
This unique vehicle cover does it differently, as you can tell by the picture. Available in 6 sizes for cars, trucks, and SUVs, Hail Protector installs in about 5 minutes (after one practice install) and inflates to full size/protection in about another 5 minutes.
What's great is that it includes 3 different power sources: "AA" battery pack (1 hour of protection), car accessory plug (3 hours of protection), and standard A/C cord/adaptor (continuous use). You even get a remote control to be able to inflate the cover from the comfort of your home or work office.
Hail Protector was invented, developed, and tested in North Texas over a 5 year period so you'll know it'll stand up to damaging hail and high winds.
The obvious negative is the price so if you're looking for more of an all-around car cover for an area that occasionally gets small hail, one of the covers below is probably a better option.
But knowing how expensive hail damage is to fix (or even the cost of your insurance deductible), the Hail Protector inflatable car cover can easily pay for itself after just one surprise hailstorm.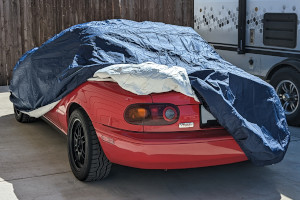 Seal Skin car covers are made out of a strong, yet lightweight material that repels water and resists UV radiation from the sun. Seal Skin offers several car covers at varying price and protection levels. Each cover is semi-custom, giving you a snug and secure fit for any make or model.
The Supreme is Seal Skin's top of the line cover. The Supreme uses a GORE-MAX fabric which is 100% waterproof, yet remains breathable to prevent mildew and paint damage. The seams are also waterproof; no water was able to pass through the cover during our tests.
Cover installation is quick and easy, and the GORE-MAX material is easy to work with. Simply unpack the cover and unroll it over the vehicle. Urethane elastic hems allow the cover to easily conform to the shape of the vehicle.
To prevent theft, this cover also comes with a cable lock mechanism to secure it to the vehicle. The cable lock can be passed through reinforced grommets that are built into the product.
The Seal Skin Supreme is thick enough to offer protection against some hail storms and other extreme weather. The product is backed by a 10 year warranty, comes with a storage bag, and ships for free. Seal Skin also makes covers for trucks, vans, boats, motorcycles, and more.
For the best all-around car cover that offers good hail protection, it's hard to beat those offered by CarCovers.com. They make it easy to find a car cover for your exact vehicle so you're not guessing whether the cover will fit.
For most cars, trucks, and SUVs, five different levels of protection are offered. For the best hail protection, you'll want to go with the Platinum Shield line of covers.
These feature an inner fleece lining while offering a strong, weather-proof exterior shell that reduces the risk of damage from hail, UV rays, rain, and snow.
Elastic hems on the front and the back work to ensure that you receive the fit that you need. High-wind straps come with the cover in the box, along with a cable and lock to prevent theft.
With free shipping in the US or Canada, custom fit guarantee, and actual customer service that you won't get when ordering through Amazon or other large retailer, CarCovers is a highly respected company in the business.
Sure, these custom fit covers are a bit more expensive than some others, but you get what you pay for. For auto enthusiasts, start with CarCovers.com and then expand your search to other options if a custom fit cover is not available for your model.
This 6mm thick car cover from Altindal is strong enough that it can resist stones thrown at your vehicle. Although it doesn't provide full side coverage, it will provide protection from anything that might fall from the sky.
At 500cm long, it provides ample coverage for a typical sedan but is also available in a larger SUV size version.
It is made from ethylene vinyl acetate, so there is some flexibility in the structure, but then there is still incredible resistance to impacts. It is ready to install less than a minute out of the box.
The Platinum Guard car cover will protect sedan-style vehicles from hail damage thanks to its 7-layer design. You'll receive four layers of spun-bound polypropylene, two layers of UV resistance, and then one layer of soft cotton to protect the exterior from damage.
You can use it indoors or out for protection thanks to the buckle and strap points that protect against a heavy wind.
An elastic hem around the bottom ensures that your vehicle receives a snug fit every time. There are antenna patches included as well.
This OxGord Executive car cover will provide your vehicle with seven layers of protection. The design gives you enough strength to protect your investment in almost any weather conditions.
There are four different sizes currently available for purchase, including an XXL model that fits vehicles up to 216 inches in length.
Three layers of spun-bound polypropylene and a microporous film level work with the security grommets and tie-downs to give you a first-class experience for an affordable price. It will get the job done.
If your primary concern with hail is your windshield glass, then the Hehui magnetic windshield cover is the product you'll want to use. It will also keep ice and snow off the surface during the winter months with its leak-proof design.
This cover even resists water absorption to ensure all snow and frost from the outer surface is easily removed. It is a one-size-fits-most product, so you'll want to check on compatibility before purchase. The lightweight material is also foldable for secure storage in your trunk.
The Reliancer Car Tent/Umbrella is a unique cover that provides a silver-coated material that will keep interior temperatures up to 45F cooler during a hot summer day. It is also 100% waterproof, allowing you to give your vehicle an extra layer of protection.
It is made more for light precipitation instead of hail, but you'll receive some hail protection in case of an emergency. The steel wire acts as an anti-theft rope, while the TPU rubber soft suction cups ensure stability in most conditions. It takes about 30 seconds to fully install this product.
This hail protection product from HP (no, not the printer company) provides a universal fit which is strong enough to stop hail, falling acorns, and even small branches.
Although 100% protection is not guaranteed with this item, the design includes a 4mm layer of hard-pressed foam around the trunk, roof, and engine compartment to cushion the impacts that may occur because of weather.
It features reflective seams for easy recognition at night, while built-in elastic attachments in the front and back offer a tight fit. The interior is laminated with a varnish-protecting tile material that is soft and supportive too.
Final Thoughts
The best car covers for hail protection will reduce the risk of damage during a severe storm. That means fewer costly repairs and no insurance claims so that your vehicle looks fantastic all year long.