(Updated on July 28, 2022)
The purpose of an oil filter should be self-explanatory. When oil circulates through your internal combustion engine, it needs to be as clean as possible. There are all sorts of harmful substances and dirt particles which can exist in oil if it is not filtered and cleaned properly.
This is especially true if the oil were to ever become contaminated by some outside debris. If contaminated oil were to circulate in your engine, it would weaken the engine's performance or possibly cause it to malfunction altogether. There is even a chance of overheating too.
An oil filter basically consists of a retainer, steel tube, pleats, tapping plate, and a filter medium. However, there are different types of oil filters which are made specifically for certain types of oils.
Since many car owners use fully synthetic oils these days, this means a high-quality filter is needed. After all, the benefit of synthetic oil is that it's specially formulated to do a better lubricating job on the engine's components under many conditions.
If the oil were contaminated, then its special properties would not be apparent. As a result, your engine will suffer for it.
Top 9 Synthetic Oil Filters
Purolator is an oil filter brand which has been used in vehicles for more than 9 decades. It is the top brand as far as oil filters go. Their Purolator Boss oil filter works wonderfully with synthetic engine oil.
It will give you up to 15,000 miles of oil filtering before you need to replace it with a new filter. That's not bad, considering that most experts will recommend you change your oil filter after every 5,000 miles.
The Purolator Boss oil filter contains premium components and materials, such as a metal bypass valve, metal center tube, end caps, and silicone anti-drain back valve. It is designed to withstand a lot of heavy driving and demands on the engine.
The filter is described as having a "high density synthetic blend media," which gives it a 99% efficiency rate.
Pros
Durable
The components of the Purolator Boss oil filter are made from silicone and metal. These materials give the oil filter the most durability possible. In fact, you can get as much as 15,000 miles on this oil filter before it needs replacement.
Comparable oil filters on the market will barely last between 5,000 to 10,000 miles. This means you're getting good value for your money here. That said, it's recommended that you replace your oil filter at the same time as your engine oil.
Trusted Brand
Purolator is a trusted and reputable oil filter brand. You can rest assured that you're getting a top-quality product whenever you purchase a filter from Purolator. Their Boss version of the filter is one of the very best they sell. It has great customer reviews and continues to be a top seller.
99% Efficiency
The Purolator Boss has more than a 99% efficiency rate in this filtering job it does. In other words, at least 99% of all the contaminants and debris will be filtered out of your engine oil if you're using this oil filter. Other comparable oil filters only give you around 96.5% efficiency. The Boss helps keep your engine running clean for as long as possible.
Cons
Cost
If you were using the Purolator Classic oil filter, you could get it for an affordable price. But the Purolator Boss is a premium version of this oil filter, which means it costs more money.
Even though the Boss version is more durable, you might not care if you're someone on a tight budget who wants to save money. In that case, the Boss might be something you'd rather not spend the money on. But for something that you probably only replace once or twice a year, a few dollars more is worth it.
Not Suitable for High Performance Vehicles
As previously stated, this oil filter has a high-density media. This slows down the oil flow rate of the engine oil. If you're driving a high-performance vehicle, such as a race car, you need to have a fast oil flow rate. Therefore, it's not recommended to use the Purolator Boss oil filter with it.
If you have a newer vehicle and you want to maintain its high-end performance, then you will want the FRAM Ultra Synthetic Oil Filter to clean the engine's oil.
If you have an older vehicle, this oil filter will help preserve and protect your engine for as long as possible.
FRAM Ultra Synthetic is obviously designed to filter synthetic oil. You will have oil protection for up to 20,000 miles of driving.
See Also: Full Synthetic vs Synthetic Blend
Mobil 1 Extended Performance oil filters are made to protect your engine for up to 15,000 miles or so. It is recommended that you use Mobile 1 Full Synthetic Motor Oil with this filter, although you can likely get away with using another type of synthetic oil.
The 15,000-mile protection will still hold up either way but you'll still want to change your engine oil at the manufacturer's recommended interval. The synthetic fibers of the oil filter make it perform better than most other filters.
Read also: Top 10 Best Oil Drain Pans for Your Car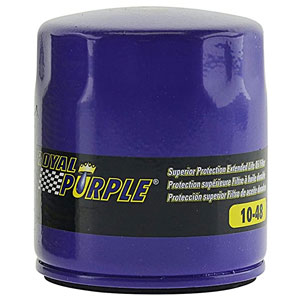 Royal Purple Extended Life Oil Filter is the only oil filter that this company manufactures. That is just fine because this filtration technology is engineered to provide maximum protection for your engine.
It does a thorough job of removing all particles and debris from oil, especially under rough conditions.
The life of the filter should last awhile as well. Royal Purple claims you can get up to 15,000 miles when used with a good synthetic oil but we recommend not going that long.
The Bosch Premium FILTECH oil filter is described as a premium filter because it will give your engine top-notch performance.
How does it do this? By removing all the dangerous dirt particles and debris from the engine oil. That way, your engine can stay functional and not be subjected to any unexpected failure.
Bosch oil filters are one of the best values around. Even the budget conscious can have a premium filter.
The ACDelco Professional engine oil filter is designed to block all kinds of particles, no matter how big or small they are. ACDelco is a brand name which has been around for more than a century now.
They don't just specialize in creating oil filters. They also make air filters, fuel filters, and transmission filters as well. With such a great reputation like theirs, they are certainly one to trust.
Ask any auto enthusiast and they'll tell you WIX oil filters are one of the best at filtering oil and keeping it clean. The durability of a WIX XP oil filter is high, so expect it to last you for a good number of miles.
The price is affordable too making it understandable why it's one of the best selling oil filters of all time. Overall, it's a filter worth trying out.
A Motorcraft oil filter will ensure the safety and lifespan of the engine in your late model Ford car or truck. Thanks to the filter's pressure release valve, you will only have clean oil flowing into your engine.
The screening technology limits the wear and tear of the engine because it catches all the particles of dirt and sand that exist in the oil. You'll find this filter to be very efficient, economical, and durable. That combination is what makes most Ford owners continue to stick with this brand.
Mann Filters are both affordable and efficient at cleaning oil and maintaining engine performance of your BMW. Any impurities in your oil will be filtered out before the oil circulates back into the engine.
The filter is unique in that the pleat structuring allow the entire outside filter surface area to clean the engine oil.