A car subwoofer is a loudspeaker which produces low-pitched sound frequencies called bass. People love to add subwoofers to their vehicles because they enhance the quality of their car audio. A true music lover will never get used to the basic audio system which is built into a car.
For one thing, factory-made car audio systems have very little bass. This alone makes the subwoofer an asset to add to your vehicle.
Also, if you purchase a normal car stereo, you are forced to fit it in small tight spaces inside your vehicle. This eliminates much of the bass and causes the sound quality to be distorted. But you won't have this problem with a car subwoofer because it doesn't need a lot of space to be heard. The long sound waves that it generates makes this possible.
Because of this, you can put a subwoofer under your car seat, in the trunk, or on the side of your door and it will be heard just fine. Some of the most powerful subwoofers are smaller than you think, so you won't struggle to fit them in tight spaces.
Top 10 Best Car Subwoofers
Of course, the best car subwoofers are often the ones which generate the deepest bass possible. Below are the top 10 best car subwoofers for deep bass that we recommend to help you get started.
If you are looking for a sub that will start earthquakes, win SPL competitions, or impress all your friends, look no further. There are few subs that can rival the might of this 19″ behemoth that peaks at 6,000 watts.
The Rockford Fosgate T3S2-19 is a subwoofer is built for the serious bass enthusiast, made to provide excellent performance without compromise. This subwoofer sports a proprietary surround mechanical clamping ring that helps with long term durability. The anodized aluminum voice coil former acts as a heat sink to quickly dissipate heat from the massive 5″ voice coil.
Although it may be a more expensive subwoofer, it provides better quality sound. There won't be distortion in playback or anything like that when paired with an appropriately sized amplifier. Just tight, clean bass that hits harder than a freight train.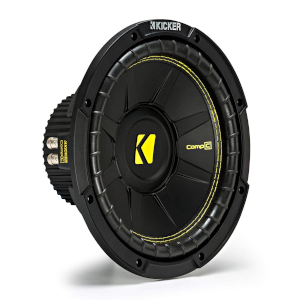 If you're looking for deep, tight bass in a slim package, consider the Kicker CompC 10″ sub. Kicker is known for its quality audio setups, and is even used by some OEMs for their premium sound systems.
The subwoofer has a cone-shaped design and is made from polypropylene and rubber. The innovative copper voice coil feature helps give this subwoofer the most quality sound possible. Once the bass starts playing, you will certainly feel it as well as hear it. This model also draws less power than some of its larger 12″ counterparts.
The MTX Audio Terminator gets its name for a reason. It is designed to allow the deep bass to deliver a very hard hit, thanks to the dual speakers that are 12 inches each. The exterior box is made from black carpet (aviation grade) and MDF construction (5/8-inch).
You can place the Terminator in the trunk of your car and it will stay just fine. This subwoofer can be connected to other stronger amplifiers if you don't like the existing one. Also, after you've used the subwoofer for a while and excessive heat is generated, its spider plateau venting will assist in cooling it down.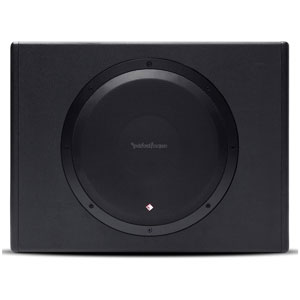 The Rockford Fosgate P300-12 is another subwoofer that is 12 inches in size. A 300-watt amplifier (class D) is what powers this sealed device. All you need to do is run a signal and power supply from your existing stereo equipment and it will generate a phenomenal deep bass sound.
Not only that, the design of this Rockford subwoofer is sloped at the edges to accommodate trunks of many different sizes. The best part is that the subwoofer is very affordable for the quality that you're getting here.
You won't need a lot of space with the JL Audio 10TW3-D4 because it is thinner than most subwoofers.
Its shallow 3.5″ mounting depth allows it to be installed just about anywhere inside your vehicle. You can put it behind the car seat, in the trunk, on the door, or wherever else you want.
The polypropylene cone is filled with micra and surrounded by rubber, giving it durability and protection from abrasions. When the subwoofer experiences deep bass, there will be no flexing.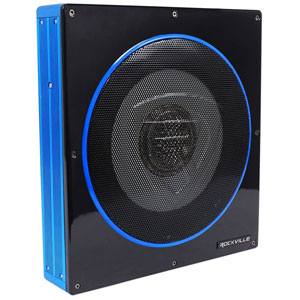 The Rockville RW10CA is a subwoofer that is slim enough to be attached underneath a car seat.
The bass won't be as deep as other subwoofers on the market, but it is much more affordable.
The amplifier built into the subwoofer limits the need for many components and wires. Not only that, it allows the amplifier to just be plugged in and played without too much hassle.
It doesn't get more powerful than the Rockville Destroyer. This solidly designed subwoofer is 12 inches and has made in the USA voice coils and quality construction to be able to withstand extremely high temps.
The RMS is 2000 watts and the maximum power is 8000 watts! The sound quality is quite clean and the bass hits HARD when paired with a good amp.
The Pioneer TS-SWX3002 woofer is quite compact and durable, allowing it to survive just about anywhere in your vehicle.
It has a shallow mount which makes it very easy to attach and install.
The low-frequency ranges of the subwoofer sound wonderful. If you clear and crisp sounds, this is the subwoofer to get.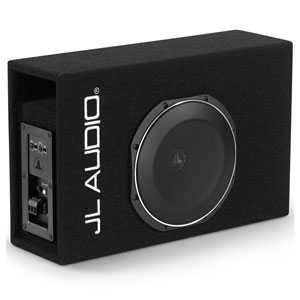 The JL Audio ACP110LG-TW1 gives you premium bass quality and protection with its V-Groove technology and MDF box.
A 2-year warranty comes with the purchase of this subwoofer. This ensures you will be happy with the quality of the device.
If you want more RMS power than the 400 watts it comes with, then you need to pay extra for that.
The Kicker 10TC104 is another subwoofer that is 10 inches and very slim and comes with a sub box, amp, and amp kit for easy installation.
It is enclosed in wooden material, but it is still quite strong and can take a lot of impact while sitting in your trunk.
You don't have to put it in the trunk, though. This subwoofer is slim enough to fit just about anywhere in the vehicle. It is also one of the cheapest subwoofers that provide such a deep bass.