If you want the benefits of tinted windows on your vehicle but don't have the budget for a professional installation, DIY automotive window tints can give you similar results when you take your time to install them correctly.
It is essential that you follow the car window tinting laws in your state. Most places allow for front windshield tinting of only the top 4-6 inches, while side and rear windows must have at least 40% to 70% visible light transmission (VLT).
The best car window tint will offer noticeable heat reduction inside your vehicle while giving your car or truck a nice visual upgrade. State window tint laws can be different, so consider your traveling habits before installing one of the window tints and alternatives below.
Related: How to Remove Window Tint
Top 9 Best Window Tint for Heat Reduction
This roll of window tint comes as a 20-inch by 10-foot roll. Apply it using the standard squeegee process, with a cutting knife and instructions included in the box.
Lexen Premium Carbon will block harmful UV-rays when correctly installed, lead to lower temperatures inside the cabin, and help to protect the interior from fading. Check the darkness percentage before purchase to ensure that you comply with local laws.
You should have enough available for four side windows if measured correctly. Comes in 20%, 35%, and 50% light transmission varieties.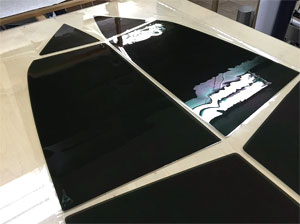 If you don't want to deal with the hassle of trimming to size when purchasing an entire roll, Lexen makes it possible to receive an exact fit for your make and model with one complete kit. You can choose the specific grade of shading with this option as well (from 50% all the way down to 5%).
With this Lexen kit, you'll still receive all of the scratch-resistant features that are notable from this manufacturer while receiving the installation tools necessary from an error-free process. Enough film is provided to cover the four primary cabin windows, the rear window, and the two smaller windows if you have them in the back. Front windshield and sunroof are excluded.
This two-ply, 1mm film resists peeling and bubbling when applied to your windows, yet it is still exceptionally pliable for an easy installation. It also offers a high level of heat resistance so that you don't encounter the shrinking issues that cheaper film can sometimes cause.
T-View window film works with curved surfaces quite easily, but it can be a little tough to shrink to a back window on some vehicles. It's a very unforgiving product as well with creasing, so it is well-suited for those who are used to this work.
This "professional" car window tint comes in a roll that's 30″ wide and anywhere from 5 feet to 100 feet in length. It is a scratch-resistant film which rejects 99% of UV rays and available in 20% VLT as well as lighter and darker variants.
MKBrother window tint is a non-metalized product as well that goes on easy since it already contains an adhesive. As with most roll-based tints, you will want to inspect the tint before application because the shipping process can sometimes wrinkle the product to create creases that would appear on your window after final installation.
This window tint provides you with exceptional glare blocking that will make it much easier to drive in bright conditions. It darkens the windows effectively allowing only 35% of outside light to shine through, keeping the interior cooler while blocking up to 99% of UV rays. It also comes in darker 20% and even 5% VLT varieties
Gila Heat Shield Plus is also a scratch-resistant product that will help prevent some scratching but is of course not completely scratch-proof. The adhesive film applies easily with a standard installation kit, which means you can get the work done at home in an hour or two in most situations.
If you want to see what your car would be like with tint without a permanent installation, then a cling-based window tint is your best option. This static cling tint provides you with a press-on experience that will give you the exact level of shading that is legally permitted in your area. This particular product has 50% light transmission but can be had in a VLT down to 5% or even full blackout.
Greenfilm is a removable and reusable product as well, but it does not work with double-paned, plastic, or acrylic surfaces. You'll still need to follow the usual installation process to avoid bubbles in the final outcome. Works great for home windows as well.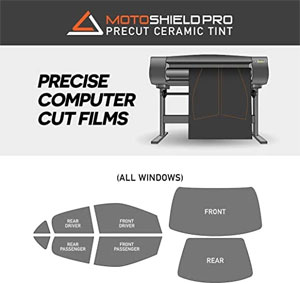 This car window tint works well for all of your side windows if you currently own a sedan, coupe, truck, SUV, minivan, or any Tesla model. When you order, simply provide your vehicle make and model information, and then customize the tint percentage.
If you choose the default MotoShield Pro option, you'll receive a mid-range 35% tint to apply. The advantage of these precut window tints is that you won't have to fuss with getting a perfect trim that fits. The disadvantage is the premium price.
This is another window tint alternative that allows you to take advantage of the benefits of tinting without creating a permanent installation. It features a stretchy mesh that pulls down over an open car door, reaching a maximum length of 44.3 inches by 20 inches. It's a fantastic option with young kids in the backseat so they can take a nap on that car ride or roadtrip.
Since Shade Sox installs separate from the window itself, you can still use it while driving. The product is a durable 40D nylon that helps to block the sun, prevent sunburns, and even improve airflow in the vehicle.
This tinting alternative gives you a static cling experience instead of adhesive so that you're not stuck with an adverse outcome if you make a mistake. It will stop up to 99% of daylight from coming into your vehicle cabin, so this product may not be legal for use in many areas.
Apply Velimax blackout window film it to a single pane of glass that is clean, smooth, and flat for the best result. If you make an error, just peel it back to reapply once again. Several different sizes are available.
The best car window tints will help you to stay cool in the summer, reduce glare, and give you some extra privacy while driving. Only install a legal product for your jurisdiction so that your vehicle can benefit from this simple value investment.