Are you an experienced DIY mechanic looking for the best mechanics tool set for the money? Or are you simply looking to learn basic automotive maintenance tasks such as changing your oil, car battery, or air filter?
Whichever side of the equation you sit on, having a tool set that has all the basic tools you'll need (in the right sizes) is a must.
A good tool set will contain a wide range of tools that will cover all your basic needs, with some sets consisting of over 300 tools. Just as a surgeon needs good surgical tools, a mechanic needs a good set of auto repair tools if he wants to save time and do an effective job.
But with so many different sets on the market these days it can be difficult to find the best one for you, not the professional who swears by Snap-On or Mac. With this in mind, here are 8 of the best mechanic tools sets worth considering.
Top 8 Mechanic Tool Sets
So, without further ado, here is our list of what we think are the top eight auto mechanic tools sets for home garage use. While you'll need additional tools (and lots of experience) if you plan on replacing your Subaru's head gasket or a timing belt job, for many automotive tasks, a good socket set (which most of these have) is the biggest need.
DeWalt makes some of the best power tools on the market today but that's not all they do well. Their DWMT81534 tool set can frequently be found in home garages as well as many auto-repair shops up and down the country.
This 205 piece set (also available in other sizes) includes 72-teeth ratchets that ensures an arc swing of 5 degrees, making it incredibly easy to fit into tight spaces. High quality sockets and wrenches cover pretty much every common size.
Its anti-slip screwdriver incorporates DeWalt's patented DirectTorque Technology ensuring high torque and ease of use.
This set (including case) comes in at 26.6 lbs mainly because the 205 pieces of the set include wrenches, sockets, specialty bits, and accessories, enabling you to tackle almost any job you throw at it.
As most established auto mechanics know, Crescent is a solid name in the mechanic tools industry with a reputation for quality products that do their jobs well.
The CTK170CMP2 set is an update of the CTK170CMP, which has been one of the top sellers in the auto-mechanic tools industry for years, and includes improved screwdrivers and tools with both SAE and Metric measurements. As a result, this tool set will handle any job you throw at it.
The set weighs 20 lbs and comes with a case for easy transportation and to keep all the pieces organised and in their place. A bit lighter than the DeWalt set but there are less pieces.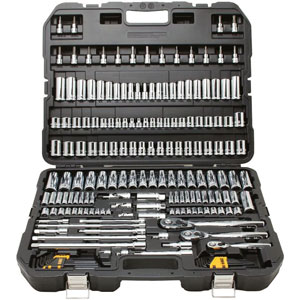 Here's a true heavy-weight in the auto-repair tools industry, and we mean that literally. The DWMT75049 weighs 39.2 lbs and includes almost every common auto-repair tool you could wish for. From extensions, bits, sockets, u-joints, and adapters, you will find everything you could ever need in this set.
Like the other DeWalt set above, this set is popular with home mechanics and pros alike. Deep laser etched markings allow you to quickly find the right socket and the 72-tooth slim head design ratchets are durable and smooth to use.
On top of this, the set is arguably the best-quality mechanics set out there not including high end brands like Snap-On, Mac, or Proto that cost hundreds more. If you are serious about your tools, this is the set for you.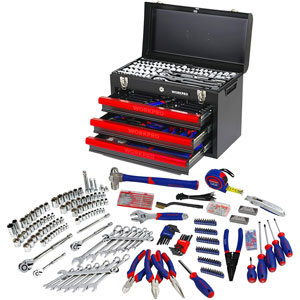 For many, WorkPro isn't a familiar name in the auto-mechanic tool industry but their huge 408-piece W009044A tool set certainly lives up to its name. This mammoth set comes with hundreds of different tools and accessories encased within a heavy-duty 3-drawer tool box.
You name it and this kits got it, from combination wrenches, pliers, screwdrivers, hammers, adjustable wrenches, hex keys, utility knives, and even a tape measure. Whilst all this might seem like overkill for the amateur mechanics out there, this is definitely a set where you won't be having to purchase individual tools you may need.
The quality is good but not great yet WorkPro offers a lifetime warranty letting you know they're confident in their product. As a value purchase, it's hard to beat this set.
Craftsman is another popular mechanic tool set brand that can be found in many repair shops and amateur garages all over the world and it's easy to see why. Craftsmen pride themselves on the quality of the tools they make and this alloy steel set with silver finish continues that trend.
While no longer made in the USA, Craftsman is a quality mid-grade brand that is still popular with weekend mechanics. The 230 tools that are part of the #50230 set include 116 sockets with both SAE and metric measurements. All drive sizes have quick release ratchets.
Weight wise the set is light at about 20 lbs and a pair of extension bars and universal joints are included in the price.
There's not much new that can be said about Stanley. They've been one of the top dogs in the tools trade for decades and when you look at their tools it's easy to see why. When it comes to value, it's hard to beat this 145-piece mechanics tool set from Stanley.
All of the ratchets, sockets, and wrenches in this set have a chrome vanadium forged body for good durability and resistance to corrosion.
The entire set including hard shell case weighs only 12 lbs making it perfect for portability or as a backup set if you already have a good tool set.
Note that this set only includes 1/4″ and 3/8″ drive sizes but most people rarely ever have the need for 1/2″.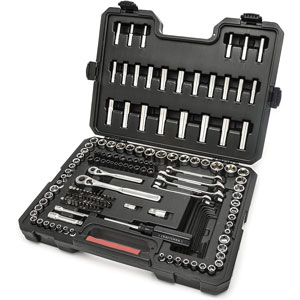 The second Craftsman tool set on our list is one that offers good functionality at a good price. As with the Deckapro set below, this is more suited to amateurs and beginners but with a variety of tools that can accomplish a broad array of tasks, this set can handle most tasks you throw at it.
The set weighs in at around 20 pounds making it a good portable solution for the more mobile mechanic. Sure you may find better quality sockets and a better selection of wrenches in another set, but for the money, this Craftsman set is a good buy.
DekoPro will likely be an unfamiliar name to many but their 168-piece set is a great beginner tool set for around the house or apartment.
It includes a bit of everything so in addition to a number of common sockets and wrenches, this inexpensive set includes hex key wrenches, screwdrivers, pliers, a 7-inch adjustable wrench, insulating tape, a level, hammer, saw, socket adapter, and 6.5-inch wire stripper/crimper among others.
No you won't find the same assortment of sockets necessary for some automotive related tasks but if you're looking for a good size tool set on the cheap with the intention of upgrading to something better down the road, the DekoPro set might be just what you need.
Conclusion
So, there you have it. The top eight tool sets for home auto repair that are available on the market today. Whether you are a seasoned mechanic or a beginner, you'll find a tool set above that will serve your needs.