Most people understand the main components of a vehicle's braking system. You have the master cylinder, lines, rotors (or drums), brake pads (or shoes), brake booster, and pedal.
But one small component plays a major role when it comes to brake noise. Here's everything you want to know about brake pad shims which are sometimes referred to as anti-squeal shims.
What are Brake Shims?
Simply put, the main function of brake pad shims is to prevent brake noise. At each corner of a vehicle, brake pads and brake rotors (or drums) sit very close to each other. The only thing that stops them from clanging together is the brake shim.
The brake pad shim is a component which goes in between the calipers and pads to prevent friction from occurring. Basically, the shims keep them aligned with each other, so they can function without generating noise.
These anti-squeal shims are either adhesive or non-adhesive pads made of either rubber or metal. They go in between the middle of the brake calipers and brake pads.
If a brake shim were to become damaged or removed, then too many imperfections would exist between the rotors and pads. This would cause them to clang together and make strange noises. You will hear these noises each time you step on the brake pedal.
Is Brake Pad Grease Necessary?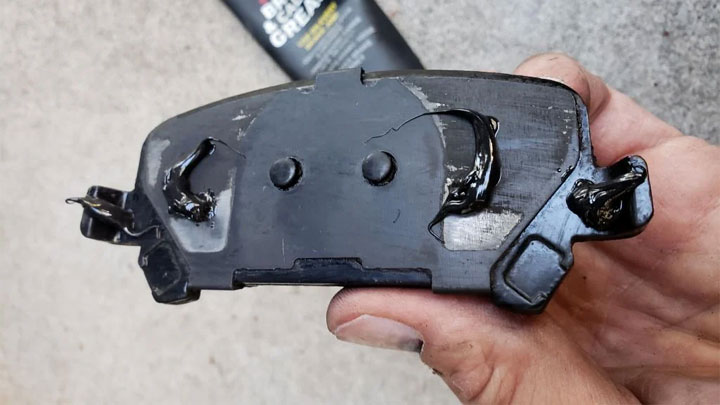 If you have brake shims installed between your brake calipers and brake pads, there may still be instances when you hear noises coming from your braking system. Again, this doesn't necessarily mean that your brake rotors are to blame.
Usually, these noises occur because your brake shims are not lubricated enough grease or some other formulated lubricant. This will assist the shims in aligning the caliper and pads properly while reducing friction.
Just apply a thin film of grease to each shim if they have not already been lubricated. Never apply grease to the front of the brake pads!
Why Do Some Brake Pads Have Shims?
A lot of newer brake pads come with the shims already attached to them. So, if you are trying to replace your brake parts, there are brake kits available which contain both the pads and shims together.
In other kits, the shims will be separate from the pads and they will include adhesive backings that let you attach the shims to the pads. If you are new to brake pad shim installation, then you should purchase the brake pads which have the shims already attached.
Which Types of Brake Shims Are Best?
Most brake pad shims are constructed from a thin metal or rubber material. You can spend more money on higher grade shims that are made from titanium if you want. These will last you a lot longer than the rubber brake shims.
But for most drivers, standard grade shims should be fine. Your vehicle may come with rubber shims already but if you ever need to replace your shims, then you may want to go with metal ones next time.
Can You Reuse Brake Pad Shims?
In most cases, yes, you can reuse old shims as long as they are in good condition. You'll want to clean them off with a little bit of brake cleaner and a rag or paper towels before attaching them to the new pads.
Symptoms of Bad or Missing Brake Shims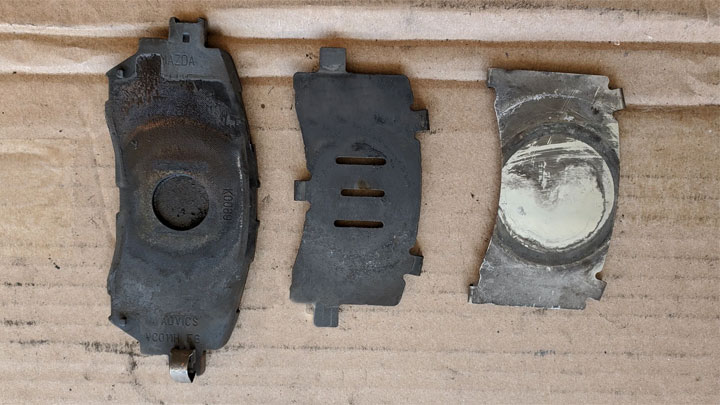 There may come a day when your brake shims end up wearing out or deteriorating from excessive use. Once that happens, you will notice some strange symptoms occur. In case your brake pads are missing shims, the same symptoms will apply.
#1 – Brake Noise
The main symptom, of course, will be a lot of loud squealing or squeaking noises coming from your brakes each time you step on the brake pedal. If you recently installed new brake pads and you're getting squealing noise whenever you are braking, double-check to make sure you're not missing the shims.
#2 – Pulsating Brake Pedal
You may also notice a pulsating brake pedal anytime you press your foot up against it. This is because faulty or missing brake shims are causing misalignment between the pads and calipers.
See Also: Why Does My Brake Pedal Go to the Floor?
#3 – Poor Braking Response
The worst-case scenario will be a limited brake response, but that should only happen if your brake pads are not able to sufficiently access the brake rotors. This is due to the brake pads not being properly aligned with the brake calipers.
Because of this, the brake pads cannot adequately interact with the brake rotors to slow down the vehicle in time. On top of that, this can also wear out your brake pads and calipers quicker than normal.