Ever wonder how the electronics in your steering wheel maintain their connection when you can turn the steering wheel several times in each direction?
If normal wires were run to the steering wheel controls, they would eventually get tangled up and break, just from everyday use. This is exactly what a clock spring is designed to prevent.
Because the airbag in your steering wheel is dependent on a functional clock spring, it's crucial that the clock spring is in good working condition. Keep reading to understand how a clock spring works, what symptoms of a broken clock spring are, and the average replacement cost is.
What is a Clock Spring?
A clock spring is a coil of flat wires wound inside an assembly in the steering wheel. One part of the outer assembly follows the steering wheel, and the other part attaches to the steering column.
This device is sometimes referred to as a spiral cable, airbag clock spring, steering wheel clock spring, clock spring assembly, cable reel, or contact reel, depending on the vehicle and where you live.
The clock spring is not really a spring at all, but it gets its name from the look of the coiled ribbon inside the housing. This coiled ribbon resembles the shape of a spiral torsion spring, but does not compress and release stored energy the way an actual spring would.
What Does a Clock Spring Do?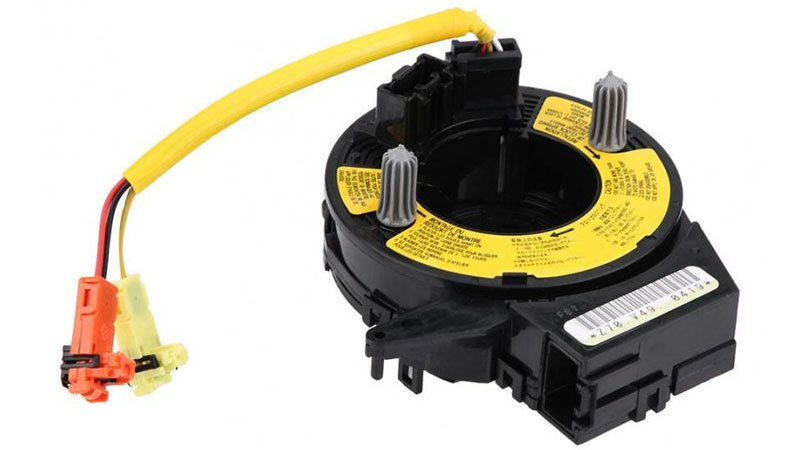 As you turn the steering wheel, the coil of wires within the clock spring winds and unwinds, maintaining an electrical connection for the airbag and steering wheel controls.
Regardless of how much you turn the steering wheel and in what direction, you always keep a connection between the airbag control module and steering wheel airbag, the radio and its steering wheel controls, the horn button and the car horn, and any other buttons or controls on the steering wheel to what they operate.
You may be thinking that the clock spring plays a role in returning the steering wheel to a neutral position, but this is not the case. The reason a steering wheel returns to its centered position when you let go of the wheel is because of the vehicle's caster angle, not the clock spring.
Most vehicles have a positive caster angle. When the front wheels are turned, a positive caster angle puts force on the front tires that makes them want to return to their neutral position, pointed straight ahead.
Since the steering wheel is directly connected to the tires, the steering wheel is affected by this centering force. Besides, a real spring this small would likely not be able to overcome the inertia of most vehicles' steering assemblies.
Where is the Clock Spring Located?
The clock spring is usually located on the steering column behind the steering wheel. Almost every road going vehicle with a steering wheel has one of these devices.
However, if your vehicle has no airbag, steering wheel controls, or horn buttons, you may not have a clock spring.
Bad Clock Spring Symptoms
1) Airbag Warning Light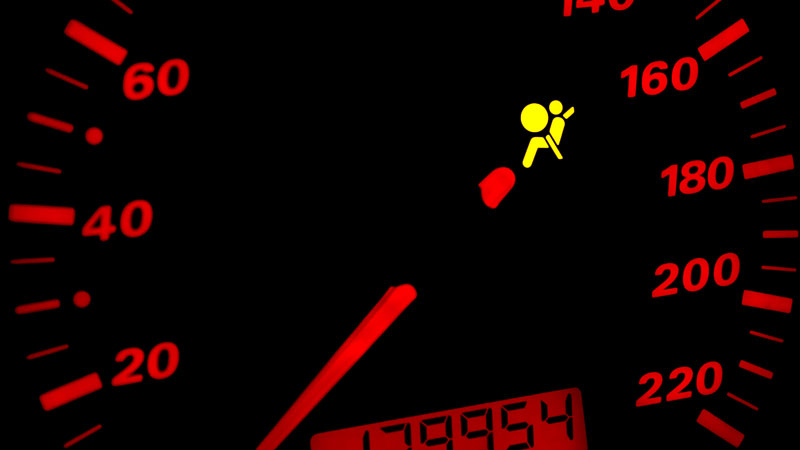 One of the most common signs of a broken clock spring is the airbag warning light on your dashboard. If the electrical connection within the clock spring is faulty, it may cause the airbag light to illuminate, signaling an issue with your vehicle's safety features.
2) Traction Control and Stability Control Lights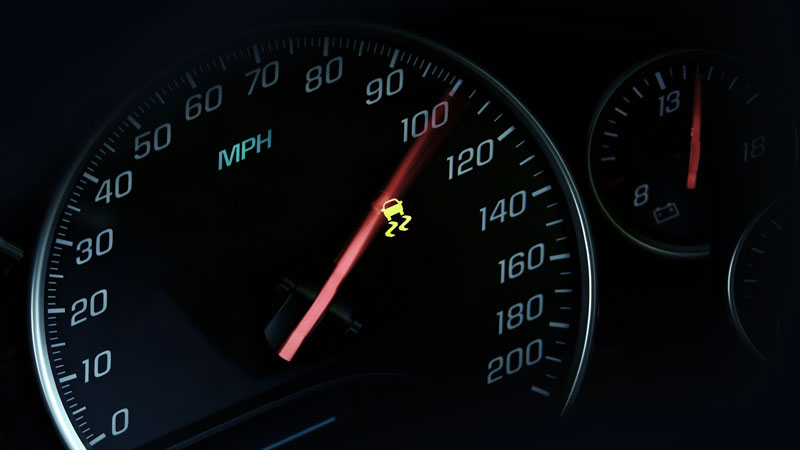 In some cases, a faulty clock spring may also cause the traction control or stability control light (ie: Service AdvanceTrac) to turn on in your instrument cluster. This indicates that the clock spring is unable to properly relay information between the steering wheel and the vehicle's control modules.
3) Steering Wheel Buttons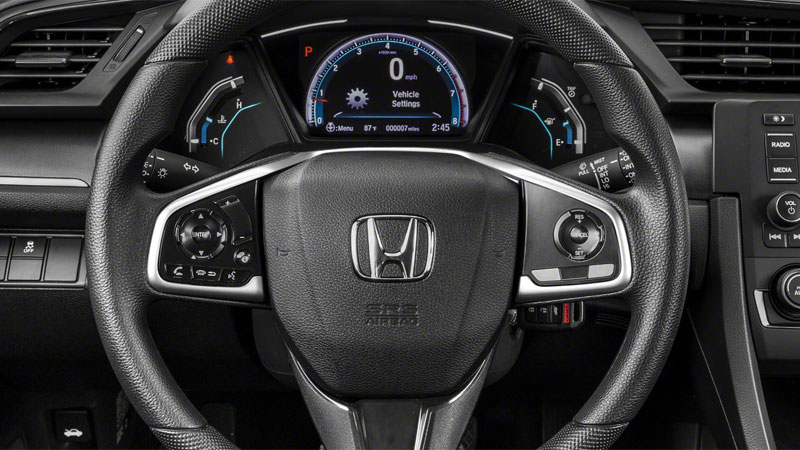 Another sign of a clock spring malfunction is steering wheel buttons that don't work properly. You may notice that the horn, media controls, or other buttons on your steering wheel either are unresponsive or work intermittently.
As with warning lights, these issues can arise when the electrical connection within the clock spring is compromised.
4) Intermittent Warnings and Button Functionality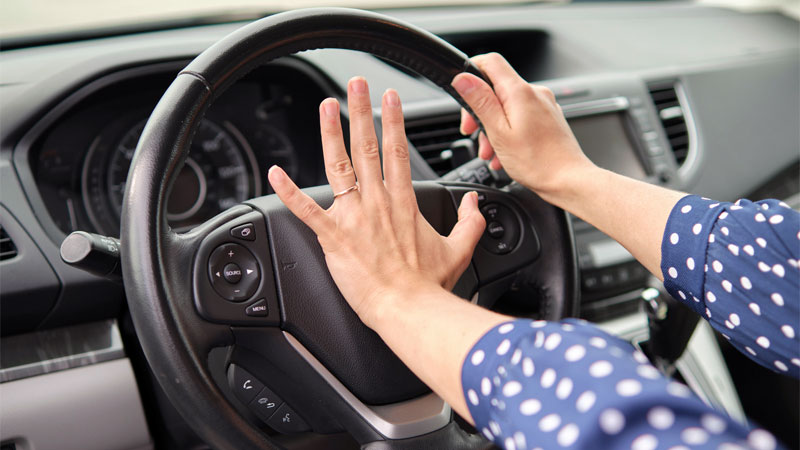 Sometimes the symptoms above (warning lights and steering wheel buttons or horn) will work when the steering wheel is in one position, but stop working as soon as you touch or turn the steering wheel. An intermittent connection could manifest as a flickering warning light or sporadic, inconsistent functionality.
5) Grinding Noise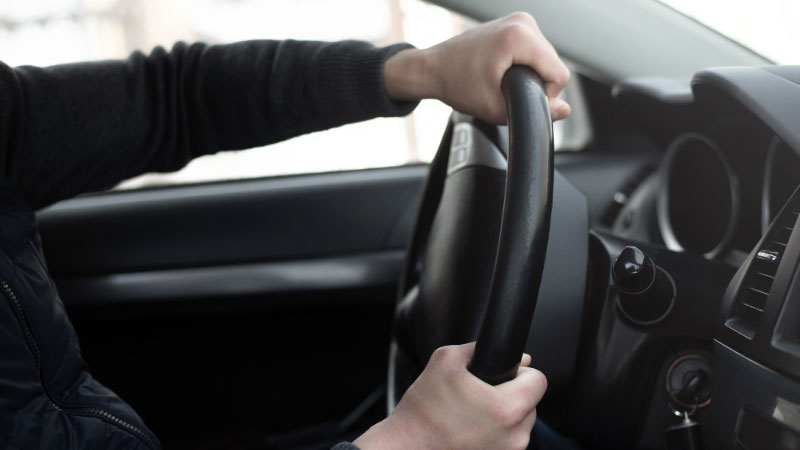 A grinding or scraping noise coming from inside the steering wheel whenever you turn it is another sign of a bad clock spring. This noise usually occurs when the clock spring is damaged or worn, allowing metal or plastic components to come into contact with each other as the steering wheel is turned.
6) Steering Wheel is Hard to Turn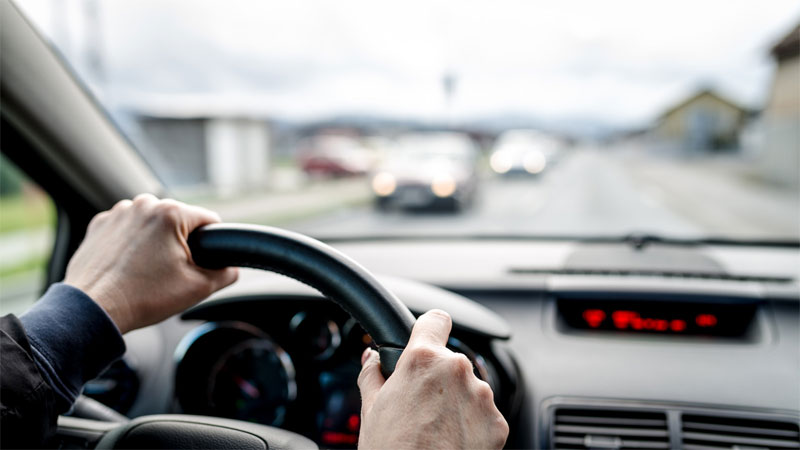 In some cases, a frayed or broken ribbon cable could get stuck between each half of the clock spring's casing, which would make the steering wheel a bit harder to turn.
If you notice these symptoms it is best to address the issue as soon as possible. A bad clock spring can afflict you with more than broken volume controls.
You could be left without cruise control, a functioning horn, or most importantly, a functioning airbag. In this situation, you would be unable to alert an inattentive driver and the airbag may not deploy in the event of a collision.
Some vehicles also use the angle of the steering wheel for traction or stability control calculations. A broken clock spring will leave these systems in a degraded state, if they continue to function at all.
Clock Spring Replacement Cost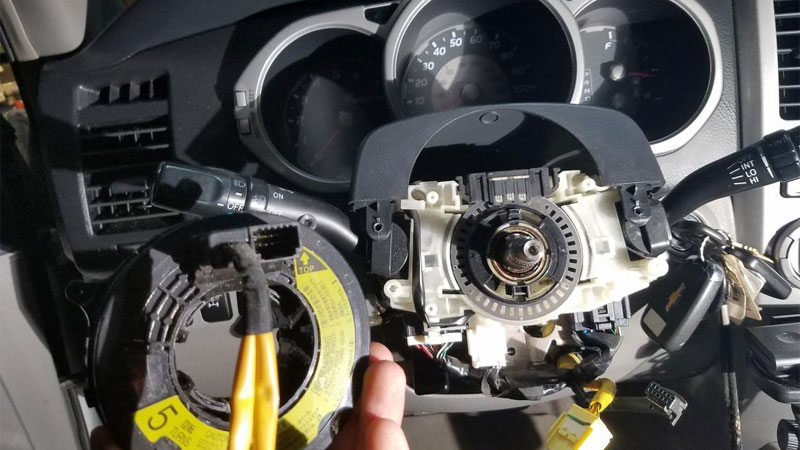 Clock springs are relatively inexpensive, running between $100 and $200 depending on the vehicle. Labor is fairly straightforward and should take 1-2 hours; expect to pay up to $400 in labor.
If you attempt to replace the clock spring yourself, it is very important that you follow the manufacturer's instructions for safely disabling the airbag. Failure to do so could lead to an airbag detonation that may cause serious injury or death.
Consult your vehicle's factory service manual for details on this procedure. At the very least, the instructions will likely ask you to disconnect the battery and wait at least 10 minutes to ensure the airbag system has been disarmed.
See Also: Average Airbag Replacement Costs
Possible Causes of Clock Spring Failure
While most people will likely never face a clock spring issue, there are several factors that can lead to its failure:
Normal Wear and Tear – Clock springs are designed to last for quite some time, but they aren't built to last forever. As you use your vehicle, the constant turning of the steering wheel can cause the clock spring to wear out over time.
Dust and Debris – As you drive, dust and debris can accumulate on the clock spring, making it have to work harder. This can eventually lead to failure.
Physical Damage – Accidents or other sudden impacts can cause damage to the clock spring. This can lead to malfunction or even complete failure of the component.
Moisture – Some clock springs are not properly sealed, which can allow moisture to get inside and damage the internal components. This isn't as common as normal wear and tear, but it's still something to watch out for.
Improper Installation – If you or someone else replaced the clock spring and it was not done correctly, that can cause the clock spring to fail prematurely.
Frequently Asked Questions
Can a Clock Spring Be Repaired?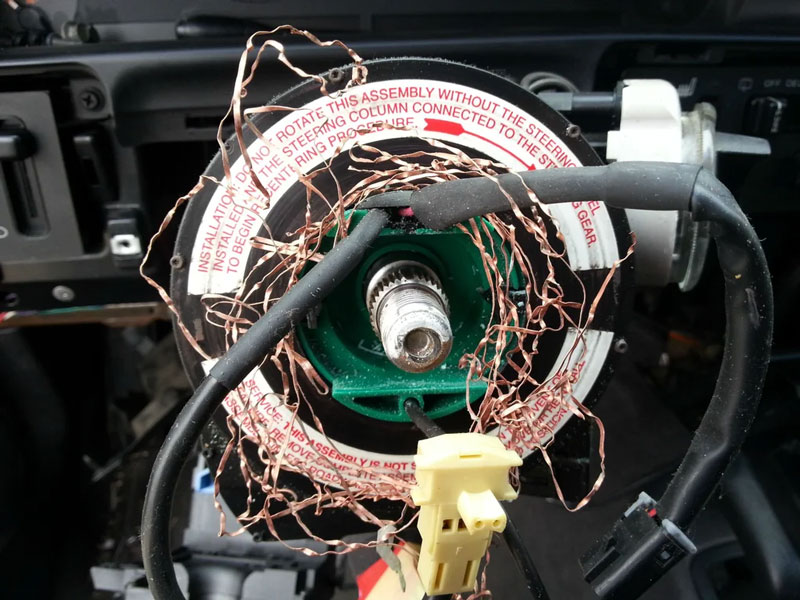 While it is sometimes possible to repair a damaged clock spring, it is generally better to buy a new one.
Clock springs are cheap, and it's important to have a reliable unit since they may be involved with the correct function of the driver's airbag, the horn, cruise control, and traction and stability control systems.
Can You Re-use a Clock Spring?
If you remove the clock spring while performing a repair, it is often possible to reuse the clock spring. Remove the clock spring while the steering wheel is in a neutral position and be sure not to turn the clock spring after you remove it. Reinstall the clock spring in the same neutral position.
If you were to spin the clock spring a rotation or two and then reinstall it, you may not have enough slack in the internal ribbon before the steering wheel hits full lock. In this case, you run the risk of stretching or breaking the internal wires and damaging a perfectly good clock spring.
If the airbag has deployed, it is best to replace the clock spring with a new unit.
Can a Faulty Clock Spring Affect Turn Signals, Hazard Lights, or Windshield Wipers?
No it will not. While the clock spring would affect any buttons or switches on the steering wheel itself, turn signals and windshield wiper controls. The vehicle's multi-function switch would be a possible cause in those cases.