When your car is experiencing a rough idle, your engine may chug, vibrate, or shake while it's running. This will cause your overall driving experience to feel rough and you'll likely be bouncing a little bit in your seat from it.
When the engine idles, there will usually be a misfire that you can feel just from holding onto the steering wheel. Furthermore, the RPM of your engine will be higher than normal when the vehicle is idling.
The RPM will usually go back to normal as you accelerate the vehicle, but will increase again after you stop. This is definitely not a normal situation.
Reasons for a Rough Idle or High RPM
If you are experiencing a rough idle or your RPM is running high when idling, then there are a variety of reasons for why this could be happening. It is not always easy to diagnose the cause because there are so many factors involved here.
Below are the top causes that a mechanic would look for.
1) Bad Spark Plugs
If you have bad spark plugs because they're worn out or damaged, then it could be causing your engine to be idling rough. Remember that spark plugs are what send a current of electricity into the internal combustion chamber to ignite the mixture of fuel and air.
If the spark plugs are bad, then the electrical current won't be sufficient enough for the ignition. This will cause the fuel and air mixture to burn inconsistently, which will result in rough idling engine.
2) Bad Ignition Coils/Wires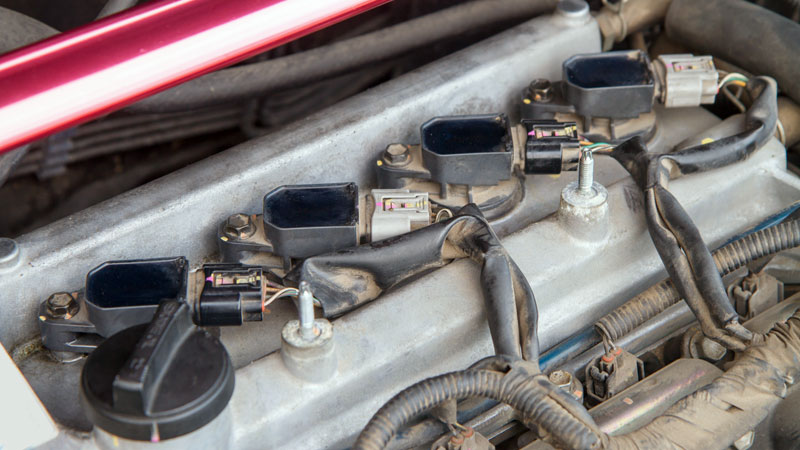 If your ignition coils or spark plug wires have gone bad, you will experience similar symptoms to having bad spark plugs.
Ignition coils, coil packs, and spark plug wires transmit a very high voltage to the spark plug which enables electricity to jump the gap. If the insulation on these components has worn away, they may be unable to produce a consistent high voltage output.
Any time the spark is unable to jump the spark plug gap, that cylinder has a misfire and no power is produced on that particular combustion stroke.
3) Vacuum Leak
There are a lot of hoses that help deliver both fuel and air to the internal combustion chamber. One very common cause of idling rough is a problem with a vacuum hose in the vehicle. The hose could be damaged, loose, or worn out, creating a leak.
This could result in an abundance of air mixing with the gasoline, which would result in a misfire. Then, the result of that would be a car that is idling rough or having a higher than normal RPM.
4) Carburetor Issues
Carburetors were previously used in vehicles before fuel injectors were invented. Perhaps you have a vehicle which still has a carburetor in it.
If so, the carburetor itself could be having issues resulting in rough idling of the engine. A telltale sign of this would be if your exhaust was blowing out black smoke.
5) Dirty Fuel Injector
Fuel injectors are the modernized way in which vehicles deliver fuel into the internal combustion chamber. The only thing is that these fuel injectors can get dirty or clogged after a while.
If you are not using gas additives or fuel injector cleaners on a regular basis, then there's a good chance you'll get a dirty fuel injector at some point. This will result in your car idling poorly. You could also see your gas mileage take a nosedive as well.
Related: Best Fuel Injector Cleaners
6) Clogged Air Filter
The engine needs air from the outside to mix with the fuel in the internal combustion chamber. An important component under the hood of every car is an air filter which prevents debris from getting sucked into the chamber.
But if this air filter is dirty and becomes clogged, then there won't be enough clean air passing through it. This will cause the engine to idle rough.
7) Bad Idle Air Control Valve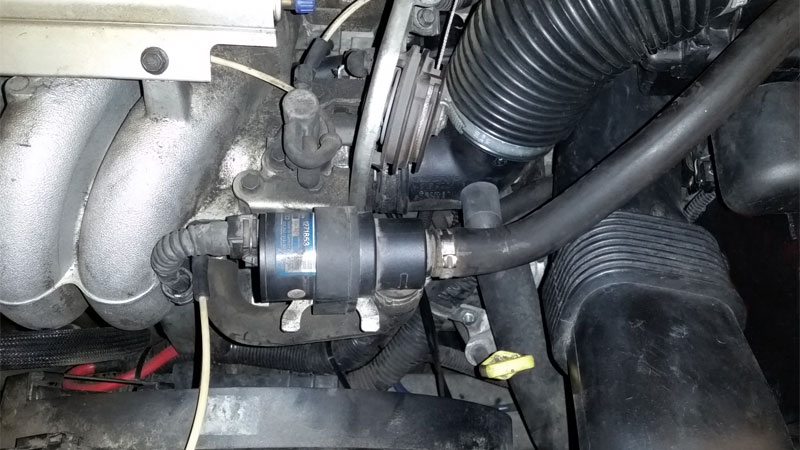 The idle air control valve (IAC or IACV) adjusts the amount of air that is allowed past the throttle body while the throttle plate is closed. This regulates the engine idle speed and allows idle to remain constant even if you switch on the air conditioning or turn on your headlights, both of which put more load on the engine.
If the idle air control valve did not compensate for these, the idle speed would drop when certain accessories are used. In severe cases, the engine may even stall.
The idle air control valve is most important on a cold startup. Problems with the idle air control will be most obvious during this time.
Related: Faulty PCV Valve Symptoms
8) Incorrect Cam Timing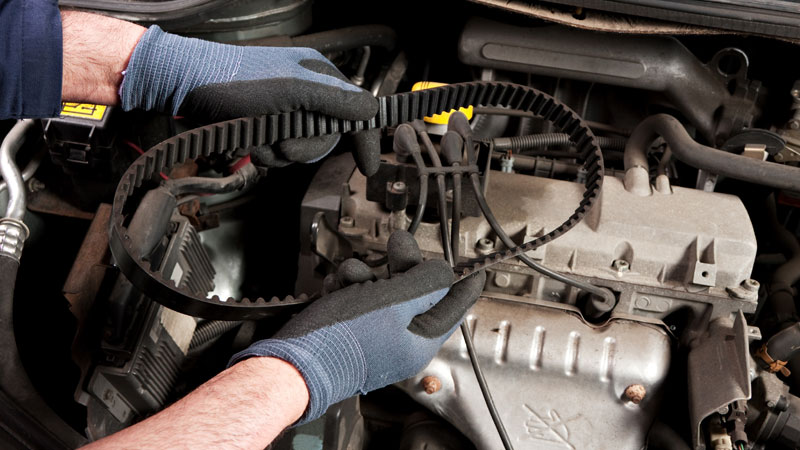 Have you recently replaced the timing belt on your engine? If the timing belt is loose or off by a tooth or more, the engine will likely end up with a rough and lopey idle, if it runs at all.
When the valves are not timed correctly, the intake and exhaust valves are open when they shouldn't be, which reduces compression and causes the combustion gasses to travel where they shouldn't on that particular stroke.
9) Incorrect Ignition Timing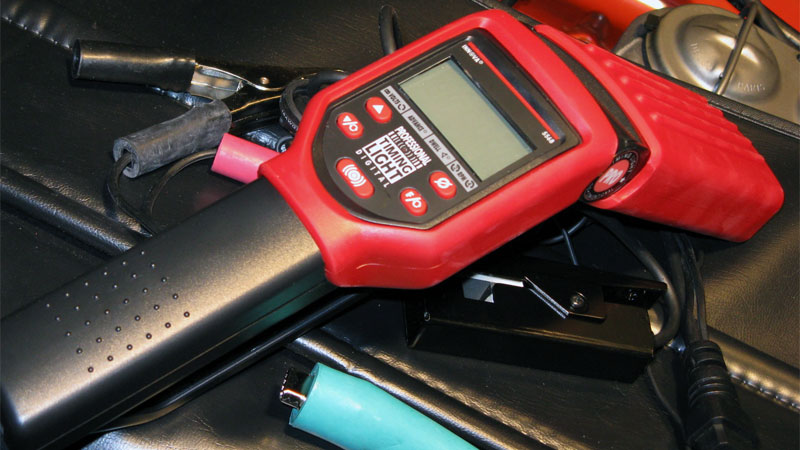 While cam timing is mechanically controlled by a timing belt or chain, ignition timing is controlled by the ECU and the distributor. Some vehicles have a crank or cam angle sensor instead of a distributor that can be manually adjusted to advance ignition timing in much the same way.
If ignition timing is incorrect, the car could run rough and often try to stall. You should be able to check your own ignition timing using a timing light. The procedure is different for every vehicle, so check a repair manual if you're not sure how to do this yourself.
Things to Remember
Your engine should normally get to around 700 RPM after you start the vehicle, depending on the model. If your idle is way off and you have one or more of the problems listed above, then you will want to diagnose the issue right away.
The cost of the repair or replacement job will depend on what the cause was. If you take your vehicle to a repair shop soon, then your engine should be okay.
But if you've continued to let it idle poorly for too long, then there could be irreversible damage to the engine. This in turn could cost you thousands of dollars in repair or replacement costs. So, don't wait for this to happen.