The oil filter has the crucial job of filtering the oil that lubricates the components of your engine. As oil circulates through the engine, it picks up contaminants and debris along the way which causes the oil to get dirty and dark. You'll want to keep these contaminants out of the engine to preserve its lifespan.
The only way to keep these contaminants from harming engine components is to have an oil filter which can prevent them from entering the engine in the first place. The engine depends on the filter just as much as it depends on the oil itself.
If you had no oil filter in your vehicle, the contaminants would build up rather quickly inside the engine. This will create a whole lot of functionality issues in the engine and the vehicle.
Signs Your Oil Filter Needs To Be Replaced
Most of the time, you'll want to replace your oil filter at the same time as when an oil change is being done.
However, if you notice certain symptoms occurring in your vehicle, it's a good idea to replace your oil filter with a new one. Otherwise, you could risk permanent damage to your engine which will cost thousands of dollars to replace.
Below are five of the most common symptoms of clogged or leaking oil filter in your car. You may even have the wrong type of filter installed which could be causing problems.
As soon as you recognize these signs, get to your local auto parts store to buy a new filter and switch it out or get your vehicle to the nearest auto mechanic or quick lube place so that they can replace the filter for you.
1) Engine Overheating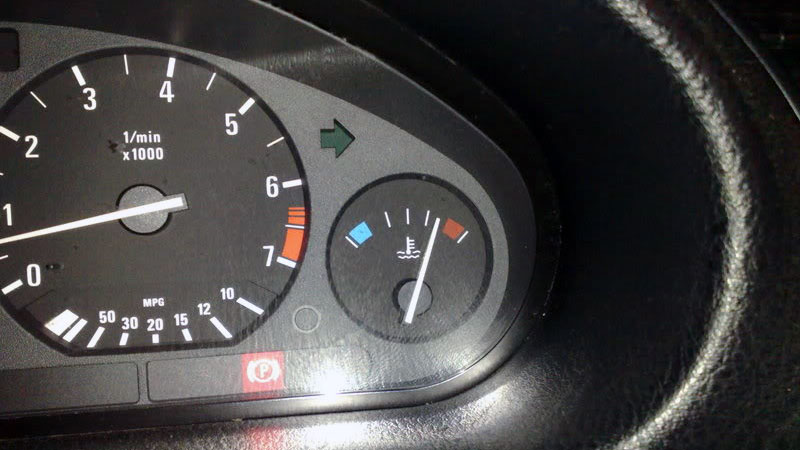 Like your air filter or fuel filter, your oil filter can clog up if left in there too long. When an engine air filter gets clogged, you will usually only notice when you accelerate hard or visit the gas station, as your performance and fuel economy will suffer.
With an oil filter, the problems that manifest are potentially worse. A bad oil filter may restrict the flow of oil entering the engine. Once that happens, the engine will not receive adequate lubrication for its moving components.
Friction between the metal components generates heat quickly. If this heat cannot be adequately dissipated by the oil and cooling system, it could lead to the engine overheating. You will often see the "Check Engine" light come on when this happens.
2) Weak Engine Performance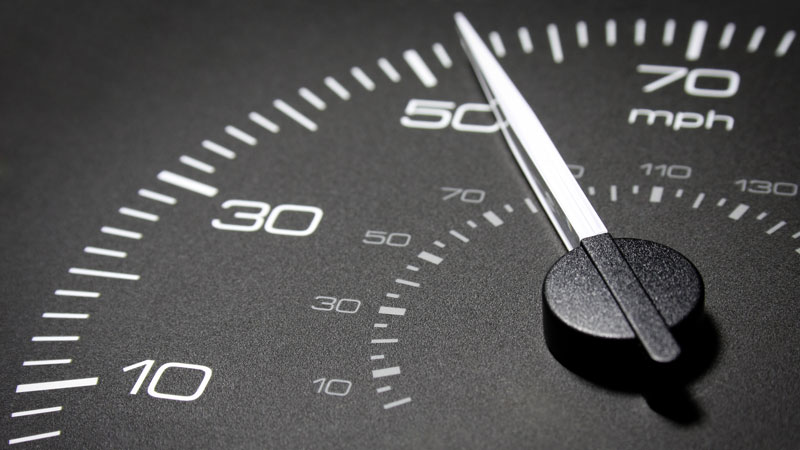 The performance of your vehicle can often reveal a lot about the health of your vehicle. If contaminants are building up in your engine because the oil isn't being filtered properly, then it will diminish the engine's ability to make the power it was designed to.
A dirty oil filter has a harder time pulling contaminants out of the engine oil. These contaminants may make their way through the small oil journals throughout the engine, causing restrictions or even blockages. This may also turn into engine sludge over time that gums up the motor.
This means that when you step on the gas pedal, your acceleration will be reduced or even nonexistent. As you continue to let this problem go unfixed, the performance will only get worse.
3) Dirty Exhaust Fumes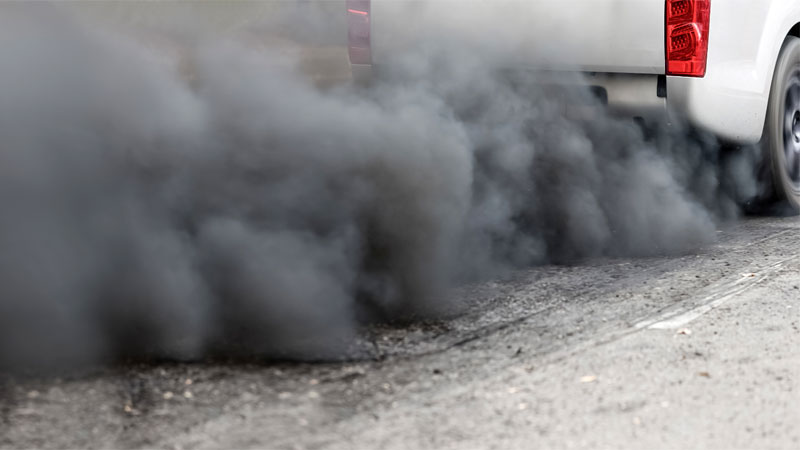 Take a look at the exhaust fumes coming out of your vehicle's tailpipe. Can you see smoke coming out of the tailpipe? If the exhaust looks gray or blue, you may have an oil burning issue. This is sometimes the result of a clogged oil filter causing oil to flow into your exhaust system where it burns up.
You may even experience a burning odor inside your vehicle from this too. These are very obvious signs that you need to replace your filter as soon as you can.
Related: Causes of White Smoke Coming From Your Exhaust
4) Low Oil Pressure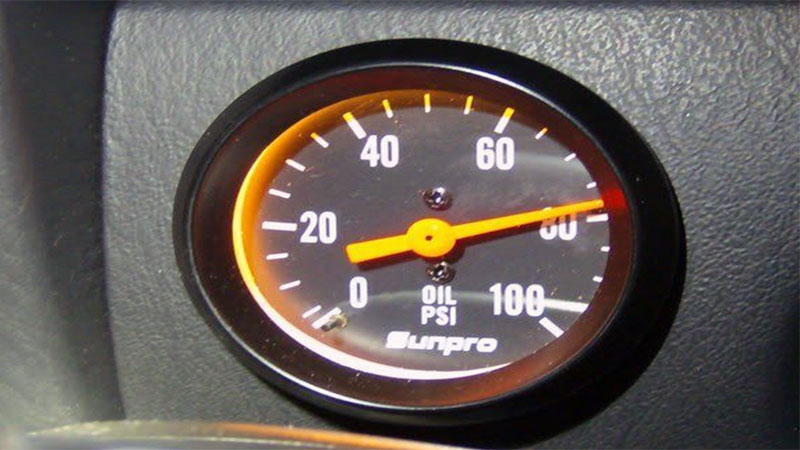 Some vehicles are equipped with an oil pressure gauge. Those that aren't will still have a red oil pressure warning light. In normal situations, an oil pressure gauge will show a consistent amount of oil pressure that will never change. However, if you see the oil pressure dropping erratically as you're driving, then you likely have a problem with your oil pressure or you have a faulty oil pressure sensor.
Low oil pressure can quickly cause catastrophic damage to an engine. If you see a low oil pressure warning light, pull over as soon as it is safe to do so and check the oil.
If you have plenty of oil, you may have a problem with your oil pump, or a restriction that is inhibiting the proper flow of oil through the engine.
One of the causes of low oil pressure can be a leaking or clogged oil filter which is preventing the flow of oil from going into your engine.
5) Metallic Noises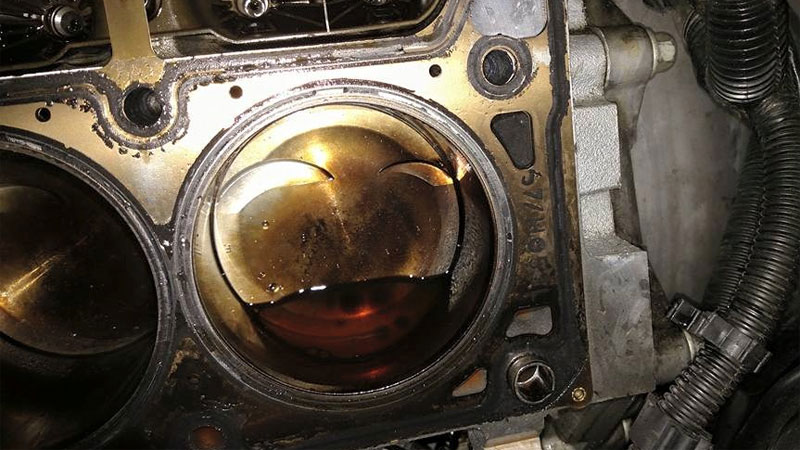 When oil is prevented from entering your engine and all those metal components grind against each other, all that friction will cause two things to happen. Like previously mentioned, it may cause the engine to overheat.
Where there is excessive heat, there is usually wear. An engine starved of oil will allow metal to metal contact between key (and expensive) components in the engine internals.
Wear from that metal on metal contact will also cause a lot of metallic noises to occur as a result of the grinding. These noises should be very easy to hear as you're driving.
When this happens, the internal components of your engine are wearing themselves out and causing damage. Check your oil level and filter to make sure one isn't the culprit.
See Also: What to Do if You Find Metal Flakes in Your Oil
Oil Filter Replacement Cost
An oil filter is one of the cheapest components to replace on a vehicle. Oil filters often cost around $10-20, and should be included as part of your routine oil change.
Changing the engine oil and filter is one of the simplest maintenance tasks that most do-it-yourself car mechanics can handle. If you are looking to save a bit of money (and have a space to work on your car), consider changing the oil yourself at home in your driveway.
There are many tutorials for how to do an oil change online. You can typically start by searching your year, make, and model, followed by "oil change". On most cars, the process is very similar so even generic how-to videos should be enough to get you started.
If you want to tackle this on your own, consider finding a friend who has done it before. Be sure to practice proper garage safety, and don't be afraid to ask for help if you're not sure how to do something.