The suspension is a vital component found in the chassis of the vehicle. The function of the suspension system is to support all the weight of the vehicle and to absorb the shocks that occur while driving.
What Is a Double Wishbone Suspension?
A double wishbone suspension attaches to each wheel and features two control arms. The arms are shaped almost like a triangle or wishbone. Each of these control arms is attached to the wheel assembly and the frame of the vehicle.
The purpose of this suspension is to allow each wheel of the vehicle to react independently from the others. This makes going over bumps and rocky terrain a lot smoother for the driver.
Related: Double Wishbone vs MacPherson Strut Suspension
Cars With a Double Wishbone Suspension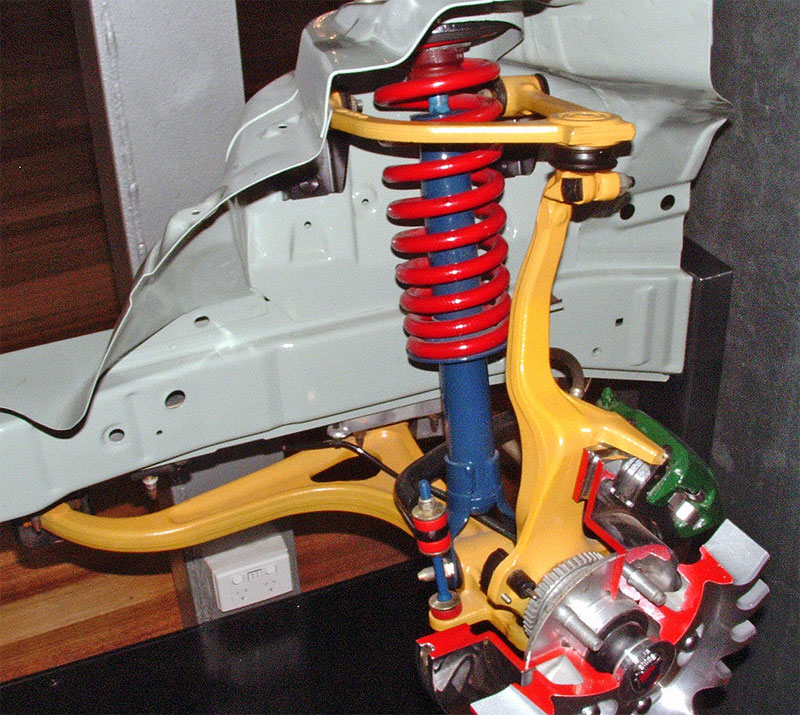 You will find that some high-performance, sporty, and luxury cars are the most common ones to have a double wishbone suspension system. Below are 10 cars that have a double wishbone suspension.
Alfa Romeo Giulia 952 – This is considered to be a compact executive car in Europe. In the United States, you might call it a luxury car because of its advanced features and design. Alfa Romeo is an Italian manufacturer and they introduced this model in June of 2015.
Lancia Delta S4 – This was a popular Italian rally car which was used in the World Rally Championship back in the 1980s. Lancia was known for putting double wishbone suspensions in their later model vehicles too.
2015 Maserati Gran Turismo Sport – This sports vehicle is clearly not going to be affordable for everybody. It's price new is around $78,000 but it is certainly a stylish vehicle if you can afford the price.
Mercedes-Benz – Mercedes-Benz produces luxury model vehicles. That is what they are known for. Most of these vehicles are made with a double wishbone suspension in them because of how smooth it makes the driving experience over rougher roads. It also protects the internal components more by limiting the bumps.
MG Rover TF – This was a popular model sports car up until around 2005. That was when the company stopped producing this line of cars. Its double wishbone suspension was certainly adored by those who got to experience driving this vehicle.
Toyota Tundra – This pickup truck from 2014 can perform even better off-road with its double wishbone suspension. Since it's been around for a while, you can get a decent deal on an older Tundra with a double wishbone system.
Honda Accord – The Honda Accord was made with a double wishbone suspension in its chassis to reduce the common noise and vibrations experienced while driving on the road, especially rough roads.
Honda NSX– Honda/Acura was responsible for manufacturing this sports vehicle. The NSX was originally adopted in 1984 and was made with a double wishbone suspension and rear-wheel drive. The full model was originally manufactured from 1990 to 2005. The second generation was introduced in 2016 and is still going strong.
Aston Martin DB7 – This high-performance luxury vehicle is famous for its ability to travel long distances and at fast speeds. This Aston Martin model was manufactured between 1994 and 2004. Only 7,000 of them were ever made.
Rover 600 – For those who want a big family car with a double wishbone suspension, the Rover 600 was ahead of its time. Rover is a British car manufacturer and they were making Rover 600s between 1993 and 1999. If you can get a restored model, then you will enjoy the driving experience that it provides.
Other vehicles with a double wishbone suspension include:
BMW X6
Ferrari 812 GTS
McLaren 720S
Lexus LC
Tesla Model 3
Tesla Model S
Tesla Model X
Lexus NX
Acura RLX
Acura RDX
BMW 5 Series
Toyota Highlander
Toyota Sequoia
Ford Expedition
Toyota 4Runner
Lamborghini Huracan
Bugatti Veyron
Porsche Cayenne
See Also: How Air Suspension Systems Work
Conclusion
While some of these vehicles are older models than others, it certainly shows that double wishbone suspensions have been popular amongst high-performance cars for decades.