Cars have several peripheral devices (also called accessories) which allow their internal combustion engines to function properly. Some of the main accessories include a power steering pump, alternator, air conditioning compressor, and sometimes a vacuum pump.
However, these devices cannot function properly without the help of a serpentine belt. This one long continuous belt is the force that drives many of the engine's peripheral devices. There is usually a belt tensioner or idler pulley to guide the belt as it moves.
What is a Serpentine Belt?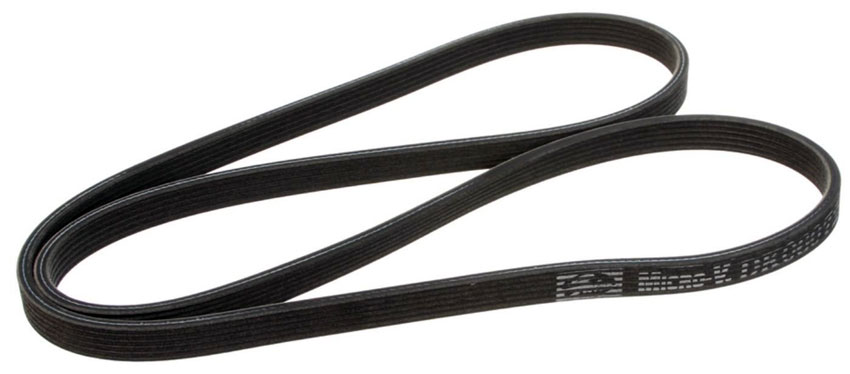 A serpentine belt, also called an accessory belt or fan belt, is the main engine belt that you see when you open up the hood of your car. These belts are easily identifiable by their distinct ridges that run the length of the belt on one side. The ridges help maintain grip when turning the accessory pulleys.
Serpentine belts are different than timing belts, which are usually not visible just by popping the hood. You usually have to tear down part of the engine to reach the timing belt.
Engine accessories need to get their power from somewhere, and it may surprise you to learn that that place is not the battery. As your engine runs, the spinning motion of the crankshaft is transferred to each of the accessory pulleys via the serpentine belt.
If your vehicle is supercharged, the serpentine belt also powers the supercharger.
Serpentine Belt vs V-Belt
Older engines have v-belts instead of serpentine belts. These are thinner and smaller than serpentine belts and usually connect one accessory to the crankshaft. You'll often see multiple v-belts in an engine, but only one serpentine belt. Both types of belts serve a similar purpose.
Top 7 Bad Serpentine Belt Symptoms
A bad serpentine belt is not the type of maintenance you want to defer. A snapped serpentine belt could leave you stranded. If the alternator pulley stops spinning, there's no way to charge the battery.
Several signs will present themselves when a serpentine belt is starting to wear out. Below are some of the most common symptoms of a worn serpentine belt.
1) No Air Conditioning
A malfunctioning air conditioner can be attributed to a lot of things. Since the serpentine belt keeps the air conditioner functional, a bad serpentine belt will take that function away from it.
If you turn on your air conditioner and see that it does not blow out cool air from the air vents, this could possibly be due to a bad serpentine belt.
2) Squealing Sounds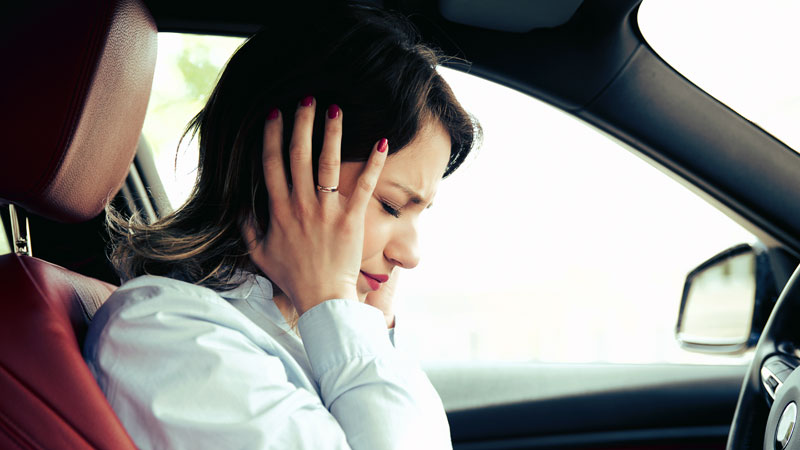 If the front area of your vehicle makes squealing sounds, then your serpentine belt might be misaligned or slipping. Sometimes it might just take a realignment or proper tensioning of your serpentine belt to fix this problem.
In other cases, the belt is probably damaged and will need to be replaced.
See Also: Common Causes of Serpentine Belt Noise
3) No Power Steering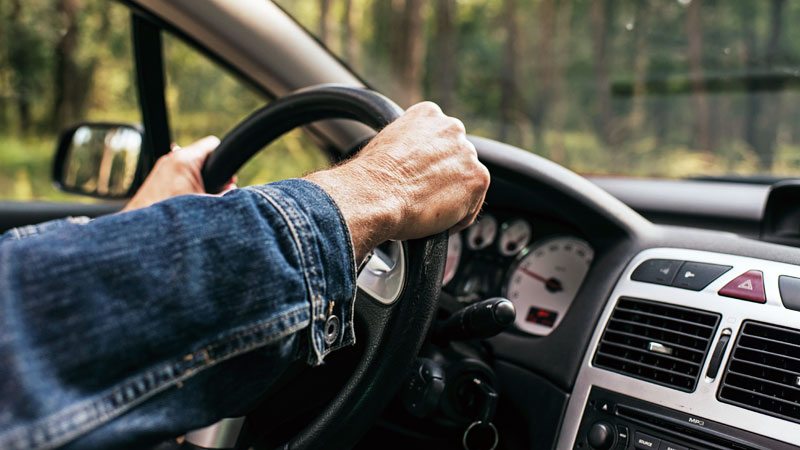 The serpentine belt allows the power steering system to function properly. Power steering is what gives drivers the ability to smoothly steer their vehicle without needing to apply too much arm strength.
If you have a bad serpentine belt, then it will be harder to move the steering wheel to steer your vehicle.
This issue could also be caused by low power steering fluid. While you're under the hood, check to make sure the power steering reservoir has the recommended level of fluid.
4) Flapping or Scraping Sound
If your serpentine belt is loose or frayed, you may hear a rhythmic flapping or scraping sound in the engine bay. This sound is often correlated to each revolution of the engine. As you give the car gas to raise the engine speed, this rhythmic sound should speed up. Sometimes it gets louder, too.
Sometimes a loose serpentine belt can be fixed by adjusting or replacing the serpentine belt tensioner. In some cases, you will need a new serpentine belt.
5) Visible Cracks on Belt
The serpentine belt is easy to access in most cars. If you want to know if your belt is bad, simply open the hood and look at the belt for yourself. If you notice visible cracks or damage to anywhere on the belt, this means the belt is bad and needs to be replaced right away.
6) Dead Battery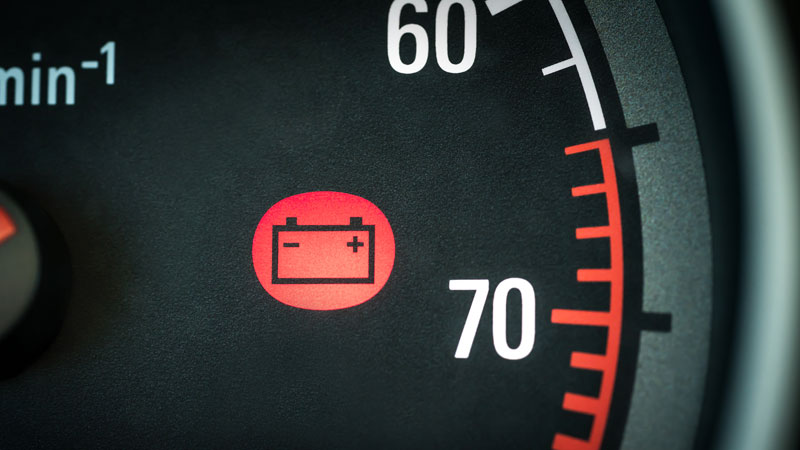 If you're driving along one day and suddenly lose power, check under the hood to see if your serpentine belt is still attached. Even if you're able to get the car started, a snapped serpentine belt will not allow the alternator to charge the battery.
Without the alternator's charge, your car will eventually die from the electricity used by the spark plugs, the radio, and the headlights. A vehicle can often run without a working alternator for a bit of time, but not for long.
If the belt is too loose to maintain grip on the alternator pulley, you may experience a similar symptom as a snapped belt.
7) Pulley Whine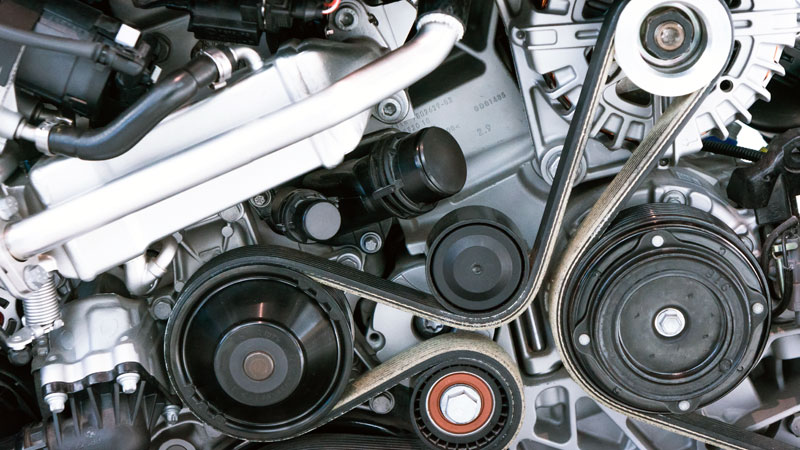 If you start to notice a whine from the engine that changes with engine speed, you may want to have the tension of the serpentine belt double checked. A belt that is too tight puts too much load on the bearings in each of the accessory pulleys and can often cause premature failure of those components.
One of the most common failure modes for engine accessories is actually bearing failure, caused by a serpentine belt that was too tight. If you think your belt may be too tight, it's best to address this issue as soon as possible to prevent expensive engine damage to peripheral components.
Serpentine Belt Replacement Cost
It is very inexpensive to replace a serpentine belt, fan belt, AC belt, or power steering belt whether it's broken or loose. The replacement cost is only going to be between $100 and $200 in most cases. The belt itself will cost between $30 and $90 while the labor costs will probably be between $150 and $200.
The ease of accessing the serpentine belt will determine how much the labor costs are. Some model vehicles have the serpentine belt easily accessible, which means the labor should take under one hour. But if the belt is in a more complicated area, it could take about 2 hours.
Easy to reach belts can actually be changed at home with minimal tools. Some belts can be removed by loosening one bolt, while others have a belt tensioner you have to pull on with a wrench to give the belt some slack. You might consult a repair manual for your specific vehicle to see if you can do this yourself.
Either way, this is certainly one of the cheaper components of an engine that you will ever have to replace. It is better you replace this immediately than risk more expensive components getting damaged.