Are you looking to give your car a little TLC and restore that factory floor shine on your vehicle? The Last Coat is a humble automotive detail product company that offers several amazing products that make detailing quicker and more convenient.
We decided to give a few of The Last Coat's top products a try on our own vehicles. The results were pretty impressive, and the products were very easy to work with.
Related: How to Remove Scratches From Dark Paint
Our Test Subjects
For our test, we selected a low mileage 2018 Mazda3 painted in Deep Crystal Blue Metallic. This factory paint from Mazda punches well above its weight, emitting a deep blue shine with a subtle metal flake.
We also have a 1994 Mazda Miata painted in Classic Red to demonstrate the GO2 Waterless Wash and the CeraTrim Ceramic Powered Trim Restorer. Many older Miatas (including this one) came with single stage paint, which means it lacks a clear coat.
While this paint is easier to work with than a traditional clear coat, it still shows dirt and swirl marks if it's not cared for properly.
Read Also: Bumper Sticker Residue Removal
The Last Coat
The Last Coat is the company's namesake ceramic inspired surface protectant spray. The spray is hydrophobic (it repels water) and leaves a deep glossy shine.
According to the manufacturer, the newest formula (TLC2) is even more durable and coats your car more effectively than before, allowing you to use less product to cover the vehicle.
Application
After a thorough wash of the Mazda3, we applied The Last Coat. The instructions on the bottle recommend spraying the product onto a microfiber towel, then spreading the damp towel across the surface.
When we used this technique, it didn't feel like we were able to distribute the product evenly across the paint. Perhaps our new microfiber towels were a bit too absorbent for this method.
Once we started spraying The Last Coat directly onto the paint and working it in with a microfiber towel, we had better results. We buffed off any excess with a separate dry towel.
Results
The Last Coat was incredibly easy to apply – much quicker and easier than a traditional wax. The resulting sheen rivals some high quality waxes we've seen. The Last Coat also seems to keep the vehicle clean much longer than an untreated surface, and reduces the visibility of water spots after a rainfall.
The coating does not feel quite as slippery as a traditional wax. Water on the paint seemed to agree. While we did get some good beading on the surface, The Last Coat does not seem to be quite as hydrophobic as a quality wax.
That said, waxing a whole car is a lot of work and can actually be a decent workout to do it right. If you're not feeling up to the task, The Last Coat is an excellent wax substitute.
CeraTrim Trim Restorer
This Miata is old enough to drink if she were a person, so naturally some of the plastic trim pieces have faded over time. This was a great opportunity to see how much of the deep black we could restore back into some of the plastic and rubber trim pieces.
Application
Clean the surface very well with a good interior cleaner. Apply a small amount of CeraTrim to a microfiber towel (or the surface itself), and rub in thoroughly with an applicator or microfiber towel. Wipe off any excess with a separate dry microfiber towel.
Results
I was very impressed with just how black these old trim pieces looked after a very little amount of work. Aside from a few scratches, it looks like the parts are brand new.
You'll want to be careful where you apply this product, as it is very slippery. For instance, CeraTrim could make your shifter pretty hard to hold onto if you drive a manual transmission vehicle.
GO2 Waterless Wash
Washing your vehicle in your driveway is not always possible. Perhaps you don't have an adequate water supply near your garage, or maybe you are prohibited from the practice due to harmful runoff into storm drains.
Waterless wash can be used between regular washes when your car hasn't gotten that dirty. This is great for a car show when you just need a little touch up to get that perfect shine.
See Also: How to PROPERLY Wash a Car
Application
After a day at the track, this Miata was pretty dirty. We sprayed the GO2 formula liberally on the paint, then wiped it off in one direction with a clean microfiber. Any time the microfiber started to look soiled, we would grab a clean one before we continued our work.
The GO2 formula has a wonderful grape smell that made the detailing process much more enjoyable. We had the whole car done in less than 10 minutes.
Results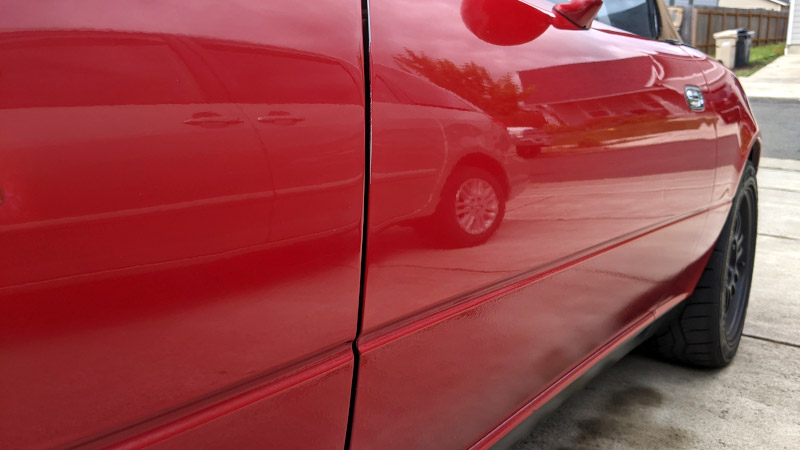 This wash formula just works. I thought there would be a lot of built up dirt and grime on my car that would be hard to remove, but this turned out not to be the case. It took very little effort to remove dirt and debris from the paint.
When you use this product, you'll want to make sure you use enough of it. The waterless wash acts as a lubricant as it lifts contaminants. Using too little may leave swirl marks behind.
Of the three products we tried, this was our favorite. Not only was it incredibly effective, it makes the washing process so much faster and easier. If you bring a bottle of GO2 Waterless Wash and enough microfiber towels, you could theoretically wash your car anywhere.
Read Also: How to Safely Remove Paint Scuffs