As vehicles age, individual components within an engine wear down a little bit every time it's being driven. When fluid is routed through hoses and lines, various types of gaskets are responsible for keeping things leak free. Unfortunately, these gaskets deteriorate and can eventually fail.
One of the more common reasons for an engine oil leak is a faulty valve cover gasket. Keep reading to learn about this gasket, understand the signs of a bad valve cover gasket, and see what the average replacement cost would be.
What is a Valve Cover Gasket?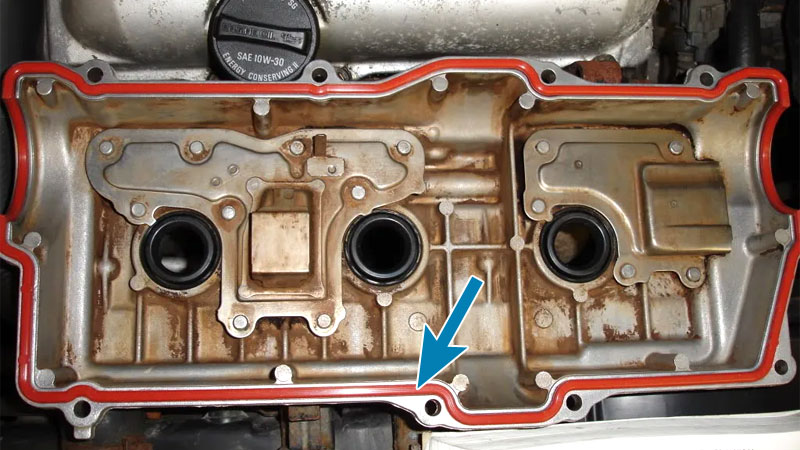 An internal combustion engine contains a cylinder block with a specific number of cylinders on top of it. The cylinder head is positioned over the cylinders and assists with the entire combustion process. The flow of fuel and air into the cylinders is made possible because of the passages which exist within the cylinder head.
Above the cylinder head, there is something called a valve cover which is usually made from either metal or plastic material. In between the cylinder head and valve cover, there is another component called the valve cover gasket. The gasket serves as a surface sealant between these two components.
Meanwhile, the gasket traps the oil inside the engine so that it will keep circulating in there and lubricating the various engine components. Depending on your specific engine layout, you may have two valve cover gaskets.
Valve Cover Gasket Material Types
Cork Gaskets
Cork gaskets used to be the go-to choice for many vehicles. They're made from a natural material (yup, actual cork!) that offers a nice balance of compression and durability. As a result, these gaskets can effectively seal your valve cover, preventing leaks.
However, there is one major drawback to cork gaskets. Over time, they can become brittle and break down, which means you'll need to replace them periodically. But if you're looking for an inexpensive, eco-friendly option, cork gaskets might be just what you need.
Rubber Gaskets
Rubber gaskets have become more popular in recent years, especially for newer vehicles. They're made from a variety of synthetic rubber compounds, making them resistant to heat and oil. This durability means rubber gaskets can last longer than their cork counterparts, saving you time and money on replacements.
Additionally, rubber gaskets are typically easier to install, since they are more pliable.
Silicone Gaskets
Silicone gaskets are made from a blend of silicone and other materials, making them both flexible and resistant to high temperatures. As a result, silicone gaskets can handle the heat and pressure within your engine better than other materials.
Plus, they generally maintain their shape well, giving you a consistently reliable seal. While silicone gaskets may be a bit pricier than the other options, the added performance and longevity can make them a worthwhile investment.
Read Also: Blown Head Gasket vs Cracked Engine Block
Signs of a Bad Valve Cover Gasket
When you first notice that you have a bad valve cover gasket, you still have time to do something about it before it gets worse. Here are 6 common signs of a leaking valve cover gasket to help you confirm the source of the leak.
1) Burning Smell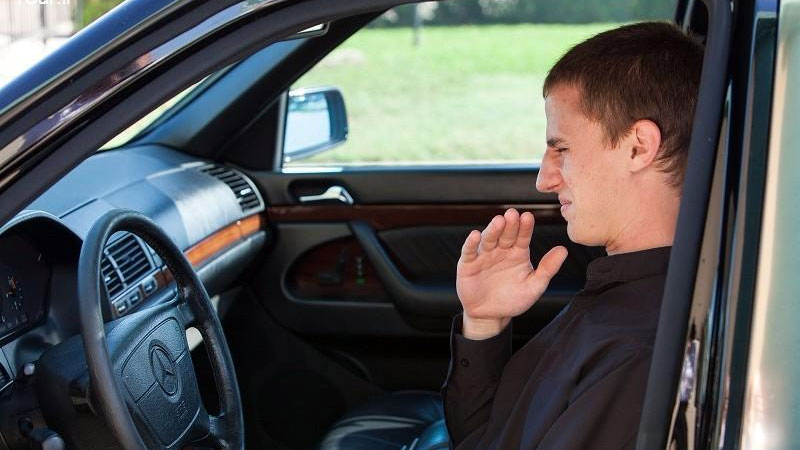 The valve cover is shielding so much compressed oil that is just aching to get out. One little crack in the valve cover gasket will cause oil to leak through and fall onto other components of the engine.
There could be oil falling onto the exhaust pipes or cylinder head, causing the oil to burn excessively. When you add engine oil to a very hot surface, you're going to notice a burning smell.
2) Dirty Valve Cover
When you go to give your vehicle an oil change, pay attention to the condition of the valve cover. If it is dirty, then it means oil is leaking out of the valve cover gasket.
Replace the gasket first and then change the oil. Either that or have a professional auto serviceperson do the oil change and gasket replacement job for you.
3) Low Engine Oil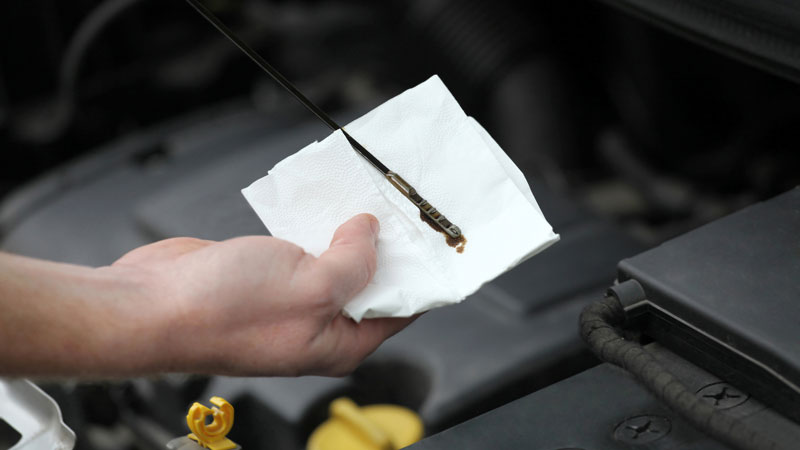 When you have an oil leak in your valve cover gasket, it means there will be less oil in your engine. This will cause more friction from the moving components of your engine, which generates more heat in there.
When there is too much heat generated, it will cause the engine to overheat. This could possibly damage your engine components severely to the point where they cannot be repaired.
4) Engine Misfire
A faulty valve cover gasket can also lead to engine misfire. When oil leaks from the valve cover, it might find its way into the spark plug wells, causing a short circuit and leading to misfires. This condition is harmful to your engine as it may produce unburned fuel, affecting your vehicle's reliability and performance.
5) Rough Idling
A rough idle can also be a symptom of a valve cover gasket leak. If the gasket is damaged, it can cause a vacuum leak. This issue affects the engine's air-fuel mixture, leading to poor combustion and rough idling.
6) Check Engine Light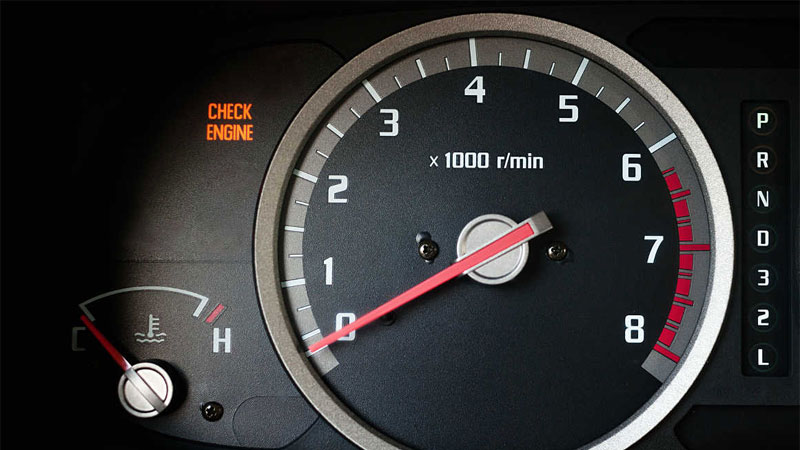 When you have a low amount of oil in your engine, the Check Engine warning light will illuminate on your dashboard. You may also have a separate oil warning light on your dashboard that will turn on as well. This should be one of the first symptoms that you notice.
Take the warning seriously and fix the leak before your oil level falls to a dangerously low level and causes severe engine damage.
See Also: Symptoms of an Oil Pan Gasket Leak
Valve Cover Gasket Replacement Cost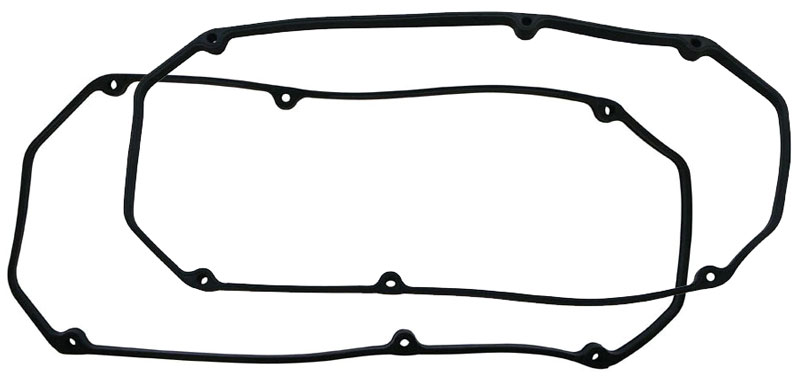 On average, the replacement cost of a valve cover gasket will be somewhere between $200 and $400. The parts cost will typically be between $50 and $70 while the labor costs will be anywhere from $150 to $300.
That said, some vehicle have valve cover gaskets that can cost upwards for $100 or due to a complex engine configuration, labor costs can be much higher.
But in most cases, this is not a very expensive part to replace in your vehicle. The extent of the expense will be based on the hourly rate of your mechanic and the quality (and quantity) of your parts.
If you can choose a professional mechanic with a lower hourly rate that works quickly, then you can pay a smaller rate for your labor costs.
The Replacement Process
Diagnosis and Preparation
If you feel comfortable replacing your valve cover gasket by yourself, it's important to accurately diagnose the valve cover gasket leak. Confirm that at least one of the symptoms mentioned above (ie: external oil leaks, low engine oil level, burning smell after acceleration, etc.) actually exist.
If these symptoms are present, then it's time to gather your tools and prepare for the replacement. Make sure to have brake cleaner, a torque wrench, and a new gasket on hand before beginning.
Note: The process described here is just a general replacement procedure. The actual process for your year, make, and model may differ so it's recommended to follow the instructions in a vehicle-specific service manual or YouTube video.
Removing the Old Gasket
Locate the valve cover and its bolts. These might be covered by other parts or engine components, so take care in disassembling any necessary pieces. Be gentle while removing the valve cover bolts, so you don't strip them. Gently pry the valve cover from the gasket and set it aside.
With the valve cover removed, you can now see the old valve cover gasket. Use a plastic putty knife to gently scrape it off the engine. Be careful to avoid damaging the engine surface, as this could cause further issues down the road.
Next, clean the surfaces where the new gasket will be placed. Apply brake cleaner to a clean cloth and thoroughly wipe the area to ensure proper adhesion of the new gasket.
Installing the New Gasket
Now it's time to install the new gasket. First, align it correctly with the engine surface. Apply a small amount of RTV sealant to areas that may require extra sealing, such as corners or spots where leaks previously occurred. Press the new gasket onto the engine surface, ensuring proper placement and adhesion.
Place the valve cover back onto the new gasket, taking care to align bolt holes and other components correctly. Thread the valve cover bolts by hand to minimize the risk of cross-threading or damage. Once they're in place, use your torque wrench to tighten them to the manufacturer's specifications.
At this point, you've successfully replaced your valve cover gasket! However, if you lack confidence in your abilities or feel that the procedure might be too complex for your vehicle, it's always best to consult a professional mechanic.
Causes of Valve Cover Gasket Leaks
Worn or Damaged Gaskets
By far the number one cause of valve cover gasket leaks is worn or damaged gasket. The gasket is typically made of rubber or plastic material, which can break down or crack over time. This can lead to oil leaks in the area of the valve cover.
If you're experiencing oil leaks from your valve cover area, chances are your gasket has seen better days. If left unattended, these leaks can result in oil entering areas where it shouldn't, causing further issues.
High Engine Temperature and Heat Exposure
Excessive heat is another factor that contributes to gasket deterioration. High engine temperatures and prolonged heat exposure can cause the rubber or plastic material in the gaskets to break down more quickly. Over time, this results in a damaged or cracked gasket that won't properly seal the valve cover, leading to leaks.
Vibration
Vibration is another culprit for gasket leaks. Your engine is constantly generating vibrations, which can gradually loosen or damage the valve cover gasket as wall as many other components in your engine. This constant shaking and jostling inside your vehicle's engine can cause the gasket to degrade, and eventually, oil may seep out from the valve cover.
Irregular Oil Changes
Neglecting to perform regular oil changes may also contribute to gasket leaks. Fresh, clean oil contains additives that help maintain the lifespan and effectiveness of gaskets. However, when you don't change your oil as recommended, these additives break down, and the oil becomes less effective at protecting the gasket. Consequently, the life of the gasket is shortened, increasing the likelihood of leaks.
Myths vs Facts of Valve Cover Gasket Leaks
Myth: A dirty valve cover is the main reason for a leak.
Fact: While a dirty valve cover can contribute to a leak, it's not the primary cause. Leaks are usually caused by a worn-out or damaged gasket, allowing oil to escape. Make sure to keep your valve cover clean, but more importantly, pay attention to the condition of the gasket.
Myth: Oil leakage only affects the exterior of the engine.
Fact: Actually, oil leaks can lead to more than just a mess under the hood. When the oil level in your engine drops, it can cause low oil pressure, which can ultimately result in engine damage. So, it's important to address any leaks as soon as possible.
Myth: Valve cover gasket leaks are a rare occurrence.
Fact: Gasket leaks are quite common! In fact, they are one of the most frequently reported engine issues. Don't be surprised if you face this problem at some point.